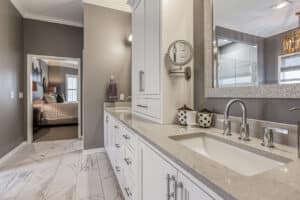 For this bathroom remodel we were tasked with moving the laundry closer to the en suite. To accomplish this we created a room off of the bathroom and master closet. This allowed us a lot of additional space and helped us to create the laundry room. The laundry room was designed to fit a front-loading washer and dryer with a countertop directly above the two appliances to assist with transferring loads of laundry and even allow for folding on top of the machines. This is exceptionally convenient for our client due to the proximity to the master closet. We installed a small cabinet to house laundry detergent and cleaning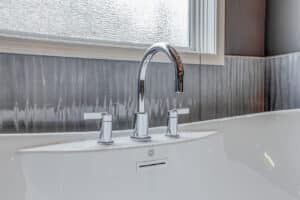 products so they are hidden from view. We also elected to add a rod for hanging clothes above the appliances in case the clothes are not yet ready to be transferred to the master closet. The laundry room can also be closed off with a simple accessible-friendly door.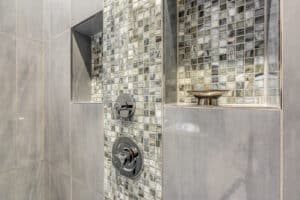 In the bathroom itself we removed a built-in tub and replaced it with a free-standing oval-shaped tub. The tub is centered below the window (which has rain glass to allow for privacy), creating a focal point in the bathroom. We also transitioned the shower from a standard shower with a lip to a barrier free shower and made the shower feel even larger with a frameless half-wall of glass. For the wainscot around the tub and shower area we used a large format 12 x 36 inch tile. This embossed tile levels up the space for a timeless look.
In the new barrier free shower we ran a border of smaller, different tile through the space vertically to house the rainhead shower head and inset shower caddies. This pop of color adds dimension and texture to the space and coordinates with the penny tile used on the shower floor. Fixtures in the shower are all chrome, matching the chrome shower handle and the chrome tub fixtures.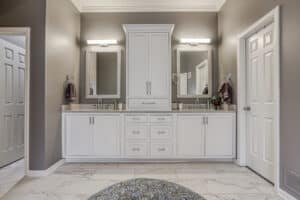 The cabinets are painted white, both brightening and elevating the space. A unique design choice here was to add a center tower cabinet between the two vanities. Not only offering a bold design, this cabinet also creates much more storage for the vanity and sink area. All cabinet doors are inset to provide the clean and seamless look you see here. The countertops are quartz and hardware and drawer pulls are chrome. The tile on the floor of the bathroom is a ceramic tile that mimics a Calcutta marble.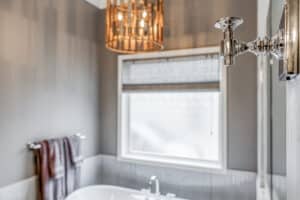 This was an amazing project for us to work on with our long-time clients. We had the chance to completely renovate their kitchen and move their laundry to their en suite. This overhaul in design has made the chore of laundry much easier for our clients and they are able to fully enjoy both the kitchen and bathroom!