Back
Zero-Entry Showers in Bathroom Remodeling: Featuring Form and Function
08/16/22
Zero entry showers, also known as barrier-free showers, are a beautiful addition to any bathroom remodeling project. Barrier-free showers also have the added benefit of being accessible for those who need some additional assistance entering the shower threshold. Removing the lip on a shower can increase the aesthetic appeal and the accessibility of the space. Barrier- free showers can give any space a new and modern feel. They also give the opportunity to show off unique floor tile work and patterns that would not normally be seen with a traditional tub or lipped shower view. This function gives the opportunity to show off your new bathroom remodel to friends or family and let them know that Wineteer Construction created the bathroom of your dreams!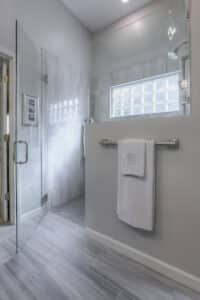 At Wineteer Construction our waterproofing method is second-to-none! Whether using Wedi Board or Hydro-Block our barrier-free showers keep mold out. If you are hesitant about pursuing a zero-entry shower in your bathroom remodel because you are not sure that your new shower will be waterproof, you can rest easy with a barrier-free shower from Wineteer Construction. We create a completely waterproof box including the full height of the walls. The sole purpose of this waterproofing method is to keep water inside your shower. The tile work we overlay on top is simply there for designs and aesthetics. The tile is installed with the latest modified thinset mortars and hydraulic grout systems to give you maximum protection against staining and cracks due to movement. This gives us the freedom to be outrageously creative with our tilework and give you the shower of your dreams, all while providing peace of mind that your new space will not leak!
Our showers can be fitted with either tile or Onyx. While tile is a traditional approach to finishing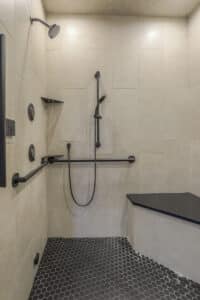 the shower space, Onyx is both more cost effective and faster. Onyx is a solid surface product that comes in sheets. It is still solid and slip resistant just like tile, and despite the name, it comes in a variety of colors. While there are many colors and textures to choose from with Onyx it does not have quite to the amount of variety that you can achieve with custom tile work. For example, we do not produce unique designs with Onyx like we do with our tile work. Wineteer Construction is experienced with creating custom bathroom and shower spaces using creative tiling, but not every bathroom renovation needs that unique tile lay. Some bathroom remodels call for a simpler approach and that is when we may suggest going with Onyx in lieu of tile. With Onyx, you still have the capability to have a varying wall and base color to include a unique element in your new space.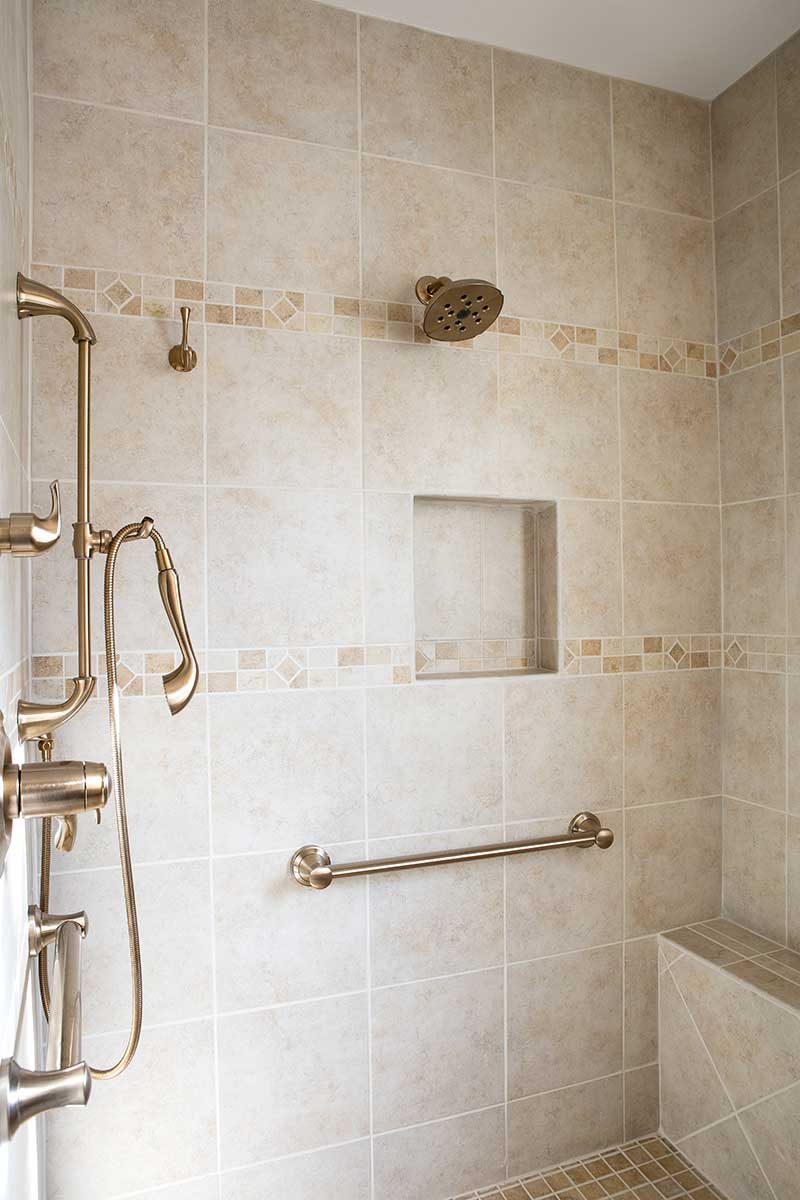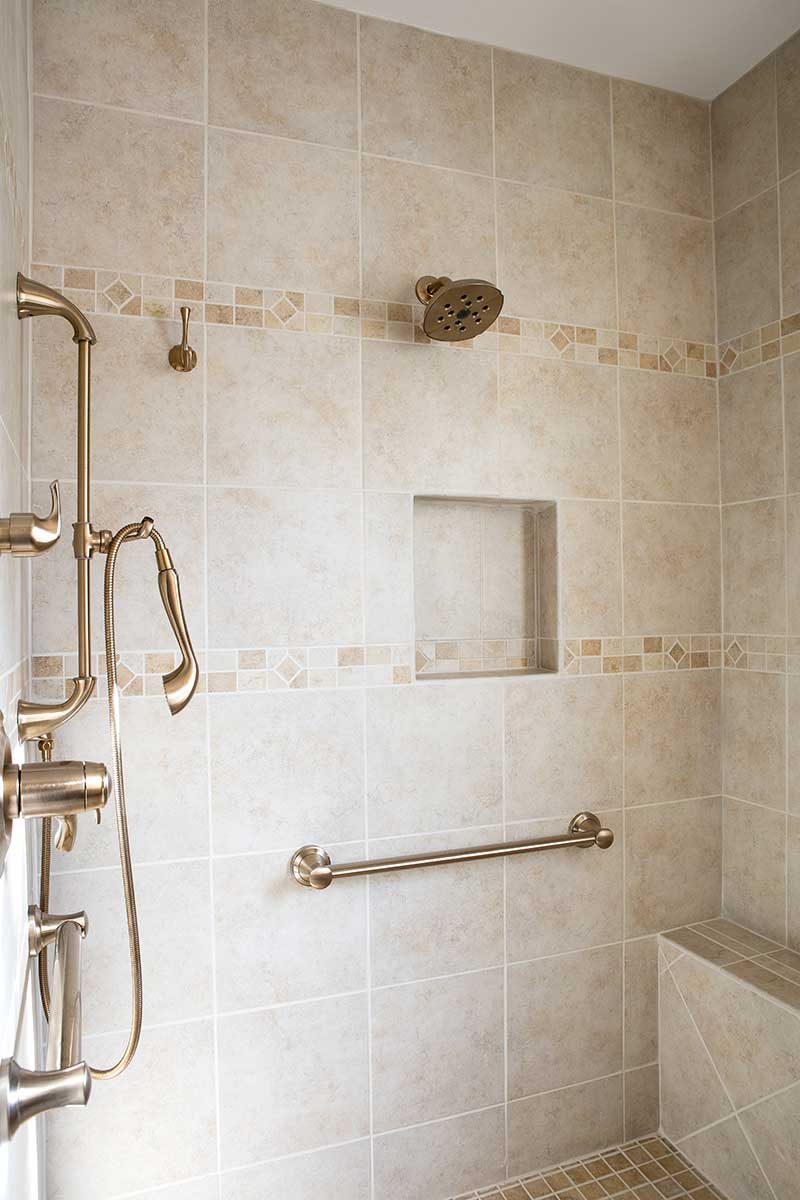 If Onyx does not seem like a good fit for you, we of course enjoy completing custom tile work. As a design-build company we can turn your ideas about your bathroom into reality. We specialize in taking not-quite fully formed thoughts about your new shower to full-fledged 3D designs that will make you want to get started yesterday! Whether you're looking for a 100% unique tile-lay or out-of-the-box Onyx, either option is available to you when considering a zero-entry shower.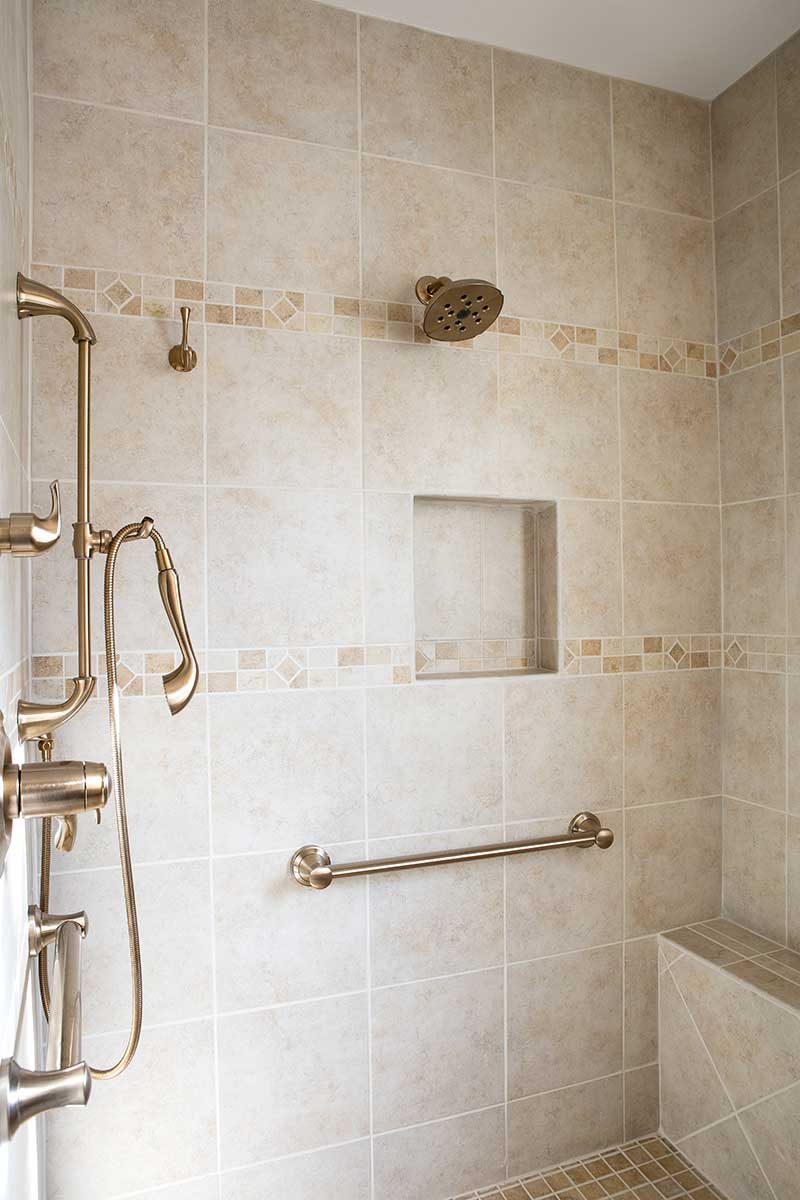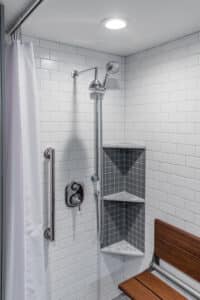 As Certified Aging-in-place specialists, we are intimately familiar with creating a beautiful bathroom that is also accessible. We've thought through the entire process giving the caregiver and the patient the spaces they need to be safe! We add various features to your shower to allow as many different uses as possible. Hand-held showers on slide-bars, flip-up shower seats that look like spa seats, designer grab bars strategically placed for a patient's individual needs can make the impossible possible. Add a steam shower for sinus or arthritis and you've really increased the functionality of a shower for physical needs.
We frequently combine form and function in our bathroom remodels, but the designs are always a part of the conversation. Barrier-free showers look elegant and can create a more seamless transition from shower to bathroom, especially if you elect to install full-glass shower doors. While the type of shower you elect to create is ultimately up to you as the homeowner, we do recommend pursuing a barrier-free shower in your next bathroom renovation. When we start a new project, we're not just thinking 1 year out or even 5 years out; we want to remodel for life. Are you a middle-aged empty nest couple that may have your in-laws move in with you in the future? How much easier would it be if you already have a barrier-free shower installed! Think about when you begin to have your grandkids over and how much less of a slip risk you create when there is no barrier to entry. A zero-entry shower can also help make your house more appealing and sellable in the future.
If you are on the fence about including a zero-entry shower in your new space, we can help answer any of your questions and determine if a barrier-free shower would be a good fit for you. All
our home improvement projects start with us asking our clients what works for them in their current home and a bathroom renovation is no different. Ask us during your bathroom remodel consultation with you if a zero-entry shower is right for you!