Back
Optimizing a Spacious Master Bathroom: Part One
01/12/23
Traditionally our bathroom remodeling clients come to us with a problem that some people try to solve with Space Bags (or another vacuum sealing bag) – too much stuff, not enough space! With this client's master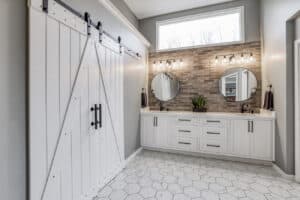 bathroom suite we had the unique problem of tons of space that was not being used well. They had a plethora of square footage but had no clue how to optimize the space to create a spa-like oasis. That's where Wineteer Construction comes in. We'll take you through this project by sharing about the vanity and tub area first, then we will wrap up by giving you details on the closet and new barrier free shower. You'll have to come back for part two!
When you look at the new vanity you'll be inspired to create your own luxury spa environment in your own bathroom! For this remodel we chose to add backsplash tile all the way up to the window to break up the height of the space. We mounted the beautiful open Edison bulb sconces directly on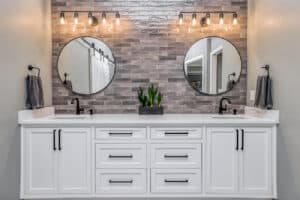 the backsplash for a completely different look. The twin round mirrors add dimension to the space and coordinate with the matte black fixtures and long hardware drawer pulls on the vanity. The under-mount square rectangular sinks ensure a seamless look on the quartz countertops. To keep everything modern and chic we stuck with whites, blacks, and grays for our color scheme. The marble-looking hexagonal tile mimics Carrara tile and is extremely modern. Specialty features on this vanity include a hot drawer, which is a drawer complete with outlets for curling irons, straighteners, blow dryers, and other hot tools.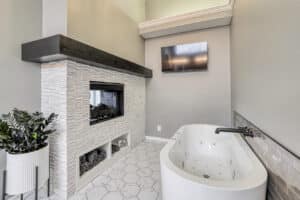 The tub area of this bathroom remodel makes us feel like we stepped straight into an all-day spa experience, but our clients have this as their everyday bathroom. What a dream! We chose to remove the built-in tub and added an elegant white free-standing tub. The wall-mount faucet is in matte black, coordinating with the vanity fixtures and hardware. The tub is a jetted tub and includes many features that provide a luxury spa experience at home.
We elected to add a small wainscot wall behind the tub that matches the backsplash wall behind the vanity. This ties various elements together and provides a cohesive design experience. We also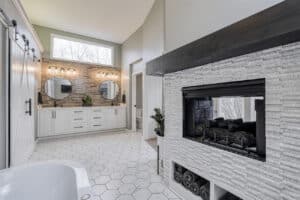 added built-in cabinets below the fireplace where the built in tub used to be so the client had storage options in the bathroom. Built-ins, when done right, provide an elegant storage solution. To provide a striking design we added a wrap-around mantle in a dark wood finish. The mosaic small stacked marble around the fireplace was selected to completely separate the fireplace from the wall and create a distinct look. We also installed a chandelier and a TV, contributing to the luxury experience. We loved the work we got to do on this vanity and tub area – stay tuned to learn about the shower and closet modifications for this spa-like experience!