Kitchen Remodeling Services
Transform your Home with a Kitchen Makeover
Whether you're in need of a few cosmetic touch-ups or an extensive kitchen renovation, Wineteer Construction is the all-in-one kitchen remodeling contractor you can trust. We provide everything you need to create a beautiful, functional kitchen that is personalized to fit the homeowners style and purpose. From a rustic farmhouse makeover that brings the family together to a modern remodel with all the latest technology, Wineteer will remodel your kitchen into a space you've always dreamed of.
Our comprehensive process starts by getting to know the homeowner, their stage in life, and the ins and outs of the space. Once the initial questions are laid out, Wineteer can design your remodeled kitchen with all of the functions and features you need to make the most of life's special moments, big or small. From making PB&J for lunches and after-school snacks to preparing holiday meals and graduation celebrations, the professional kitchen remodelers at Wineteer Construction will create a new kitchen that will grow with you as your life changes.
Reach out today to get started with our kitchen contractors and Remodel for Life.
Contact Us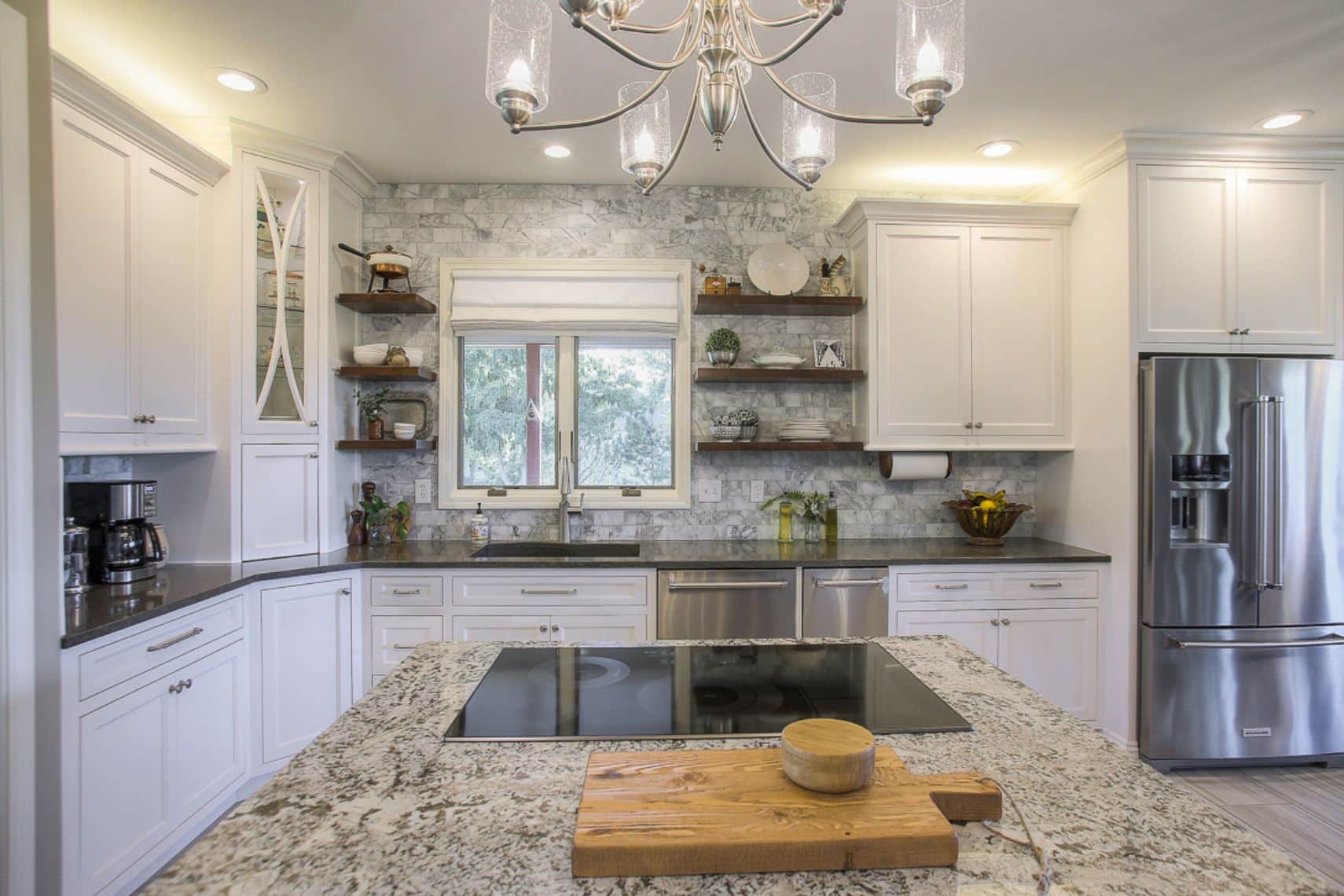 View Our Unique Kansas City
Kitchen Remodels
At Wineteer Construction, we take pride in our ability to transform ordinary kitchens into extraordinary spaces. Each of our Kansas City kitchen remodels is designed to meet the specific needs of our clients. Whether you are looking for a modern vibe or a traditional feel, our kitchen remodels will help you create the perfect kitchen for your home. The kitchen is the heart of the home, and we strive to create a space that is both functional and stylish. If you are interested in seeing some of our previous work, we invite you to view our online portfolio of kitchen remodeling services.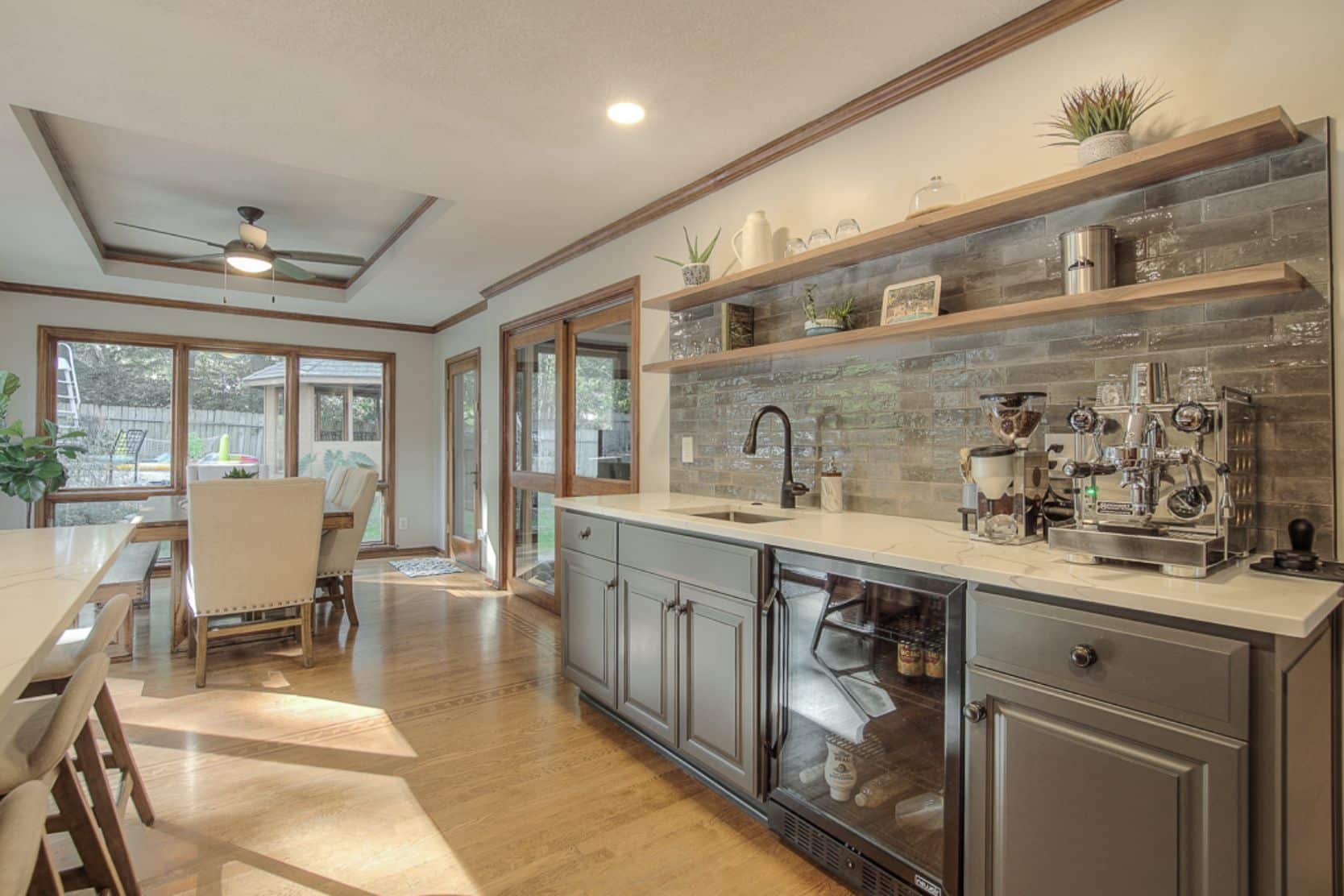 Professional Kitchen Remodeling Built to Last
Our job is to listen carefully to your specific needs and concerns with your current space. Then after reviewing the options, then create the right solutions within your budget. Do you need more organization, an overhaul of appliances & fixtures, or even a new outdoor kitchen? Whatever the project, no dream is too far out of reach with Wineteer Construction. We'll make your life simple and always deliver the highest quality workmanship in combination with artistic design, so you can enjoy your personalized kitchen remodel for years to come. Our small team of kitchen remodeling experts ensures that your goals and input are never lost or overlooked during the process, guaranteeing an result that meets your expectations.
We'll even provide a thorough kitchen remodel proposal so you're never left in the dark about material and labor costs. Don't take a chance with DIY renovations – trust the professional kitchen remodelers at Wineteer Construction to bring your kitchen redesign vision to life. Let's get started on your kitchen renovation today!
Consult Today
Let's Build Your Dream Kitchen Remodel Together
A full kitchen remodel can be intimidating, but our easy process takes the stress out of the recipe. We'll design a custom plan for your kitchen renovation based on your unique goals to help you visualize the space before moving on to selecting materials. We'll help you choose from the wide range of materials available, including granite or quartz countertops, backsplash tile, and cabinet style and color. Your deliverables may include a 3D rendering of your new kitchen. We'll present you with a detailed proposal of the price and timeline and get to work!
Our full-service team will help bring your vision to life, taking care of every aspect, from design to project clean-up. Whether it's a cozy kitchen for two or a space that needs to embrace a growing family, let us get started on creating the perfect kitchen for you today.
Countertops, Cabinets, and Beyond
A kitchen remodel is a big project, and it can be difficult to know where to start. One option is to focus on the countertops and cabinets. Replacing old, outdated cabinets can give your kitchen an instant facelift, and new countertops can provide a fresh surface for meal preparation.
If you're considering a kitchen remodeling project, Wineteer Construction can suggest the best quality materials for your new cabinets and countertops.
Get Started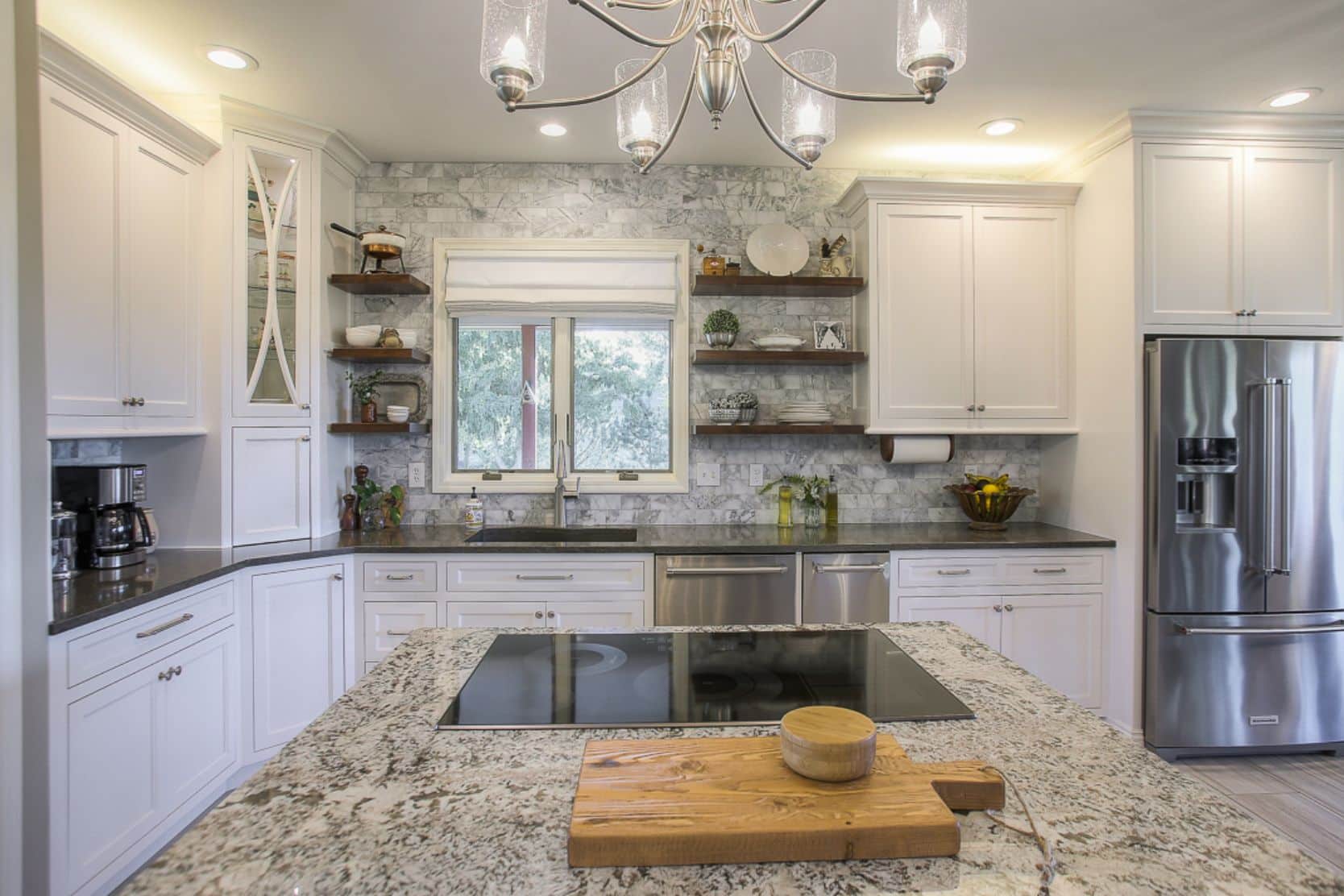 From an Imagined Vision to Reality: Our Kitchen Remodeling Process
We know there are many factors to consider when choosing a kitchen remodeling company to complete your next remodeling project. Enjoy a seamless process with our dedicated team of experts who are with you every step of the way to create a successful renovation.
Meet and Measure
Contact Wineteer Construction and we'll discuss the overall goals of your kitchen remodeling project. The initial conversation starts with our team building a relationship with you. As expert home remodelers, we'll ask you specific questions for your project to ensure we customize your home redesign to fit your needs. We will then meet you at your space to learn more about the renovation you're dreaming of, take measurements, and discuss your desired budget.
Design and Quote
For a remodeling project to be successful, it is important to solve as many of the clients' current issues with the space and include or create items the client wishes were present in the space while developing a budget that aligns both. During the design phase, we will also suggest features and kitchen upgrades to add to the project that you might not have thought of initially. Our in-house design team will work with you to identify these goals while establishing a realistic budget.
Build and Install
Our construction team and master craftsman work together to create your project using modern building materials and techniques while blending them with the current home. Our clients are able to cherish their tailored remodeling projects for years and years to come. Remodel for Life.
Kitchen Remodeling
Frequently Asked Questions
At Wineteer Construction, our primary goal is to create a space that you love. We will ask you questions to understand your style and the use for the space, helping even those who may not know exactly what they want to narrow their focus for the project. Some of these questions include:
Do you like lots of colors or do you prefer neutrals?
Are you interested in adding bold accents/interesting spots of color or would you like the space to be more plain and simple?
How many people are cooking in the kitchen? Do we need two or three people to cross paths?
Do we need to add a seating room for others in the kitchen?
Would you prefer a closed environment or an open floor plan concept?
Do you have any children (we're looking to see if we should add room to access cereal or items for children in lower cabinets) or pets (to add space for a dog bowl at the end of the cabinets)?
Are parents or those with mobility issues visiting? (Should we create an accessible space?)
Do you entertain frequently?
We will always go with you to pick out the materials for your project so you are never making design choices on your own. We typically start with the countertops before moving to the backsplash, cabinetry, appliances, lighting, hardware, and flooring.
Kitchen countertop selection also begins with asking questions, including color movement, pattern variation, and color palette. We'll help guide you if you should choose man-made quartz (which is great if you want to prevent staining), but you may opt for traditional natural stone. Countertops are like artwork as they are all unique in their own right. We'll go with you to select your countertop and ensure that the selection will coordinate with the backsplash. We will help you choose materials that artfully work together, maybe even opting to select a different material for the island in contrast to the perimeter countertops.
Wineteer Construction will help you select a backsplash through our proven selection methods. With our 30+ years of experience designing kitchens, we know when pieces need to coordinate versus contrast. We can go bold or traditional with the tile selections based on your personality and style. We want every component of your custom kitchen to reflect you. Even if the tile we select does not have lots of colors, we may add various patterns in a plain or solid backsplash to ensure the backsplash is still interesting and unique for your kitchen. Since we walk into backsplash selection with the countertop decided we can show you potential tile options and patterns, similar to a visit at the optometrist. "Do you prefer choice one or choice two?"
Cabinetry is another major component we help our clients select during their kitchen renovation process. We have unique ways to help our clients create open space in their kitchens, such as pulling cabinets back from the kitchen window and allowing the backsplash to flow up to the ceiling and around the window. Depending on the height of the ceiling in the kitchen we may run cabinets all the way up to the ceiling or may choose to have varying heights of the cabinets. At Wineteer Construction we determine this during the design phase. We come to you with our proposed layout of your kitchen and then we work together to ensure that the design makes sense for you long-term.
As your trusted contractor we will know when to recommend accent colors with glass cabinets, what exhaust systems and appliance layouts to recommend, and what features to include. We have experience creating specialty cabinets in all sorts of nooks and crannies such as spice racks, a coffee center, an appliance garage, a cutting board rollout station, and more! With cabinets, we often find that selecting the features of the cabinets can be the hardest part, but at Wineteer Construction we make it easy for you with our decades of experience. With all aspects of cabinetry, including wood species and paint or stain, we will help focus you by providing options for selection.
Our kitchen remodeling services are tailored to fit your specific requirements. Your custom designed plan includes a proposal with pricing, all while staying within the established budget.
No matter the size of the space, we have the resources to provide you with a complete kitchen remodel! We also offer whole house remodeling, so we are regularly redesigning and executing renovation projects for entire homes. Contact our team and we can provide you with an estimate and design rendering for your kitchen, big or small.
Encompassing many designs or structural updates, kitchen remodeling services vary from cosmetic changes to a complete overhaul of your space.
We will help you determine what types of appliances (freestanding range versus cooktop and wall oven, built-in drawer microwave versus upper cabinet microwave versus freestanding microwave, any specialty appliances to include, two sinks for multi-prep cooking or only one sink), what lighting to incorporate (under cabinet, in-cabinet, and above cabinet lighting, pendants, single fixtures, and decorative lighting), hardware (pullware vs. knobs, accent hardware vs. blending into the cabinetry), and flooring (wood, tile, or LVT plank). All of this (when carefully thought through) will bring a very unique kitchen that reflects you and your personal style and taste.
© Wineteer Construction, All Rights Reserved