Back
A Wineteer Kitchen: Kitchen Design Tips
11/08/22
If you're interested in a kitchen remodel it's normal to have questions about the process. Today we'd like to share with you the Wineteer Construction kitchen remodeling process so you can have confidence when choosing your remodeling contractor.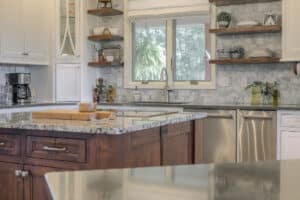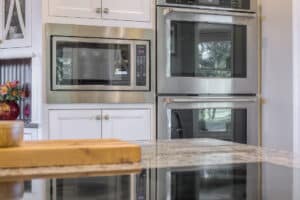 Q: What is your first step when remodeling a kitchen?
A: At Wineteer Construction our primary goal is to create a space that you love. We will ask you questions to understand your style and the use for the space, helping even those who may not know exactly what they want to narrow their focus for the project. Some of these questions include:
Do you like lots of color or do you prefer neutrals?
Are you interested in adding bold accents/interesting spots of color or would you like the space to be more plain and simple?
How many people are cooking in the kitchen? Do we need two or three people to cross paths?
Do we need to add seating room for others at the kitchen?
Would you prefer a closed environment or open floor plan concept?
Do you have any children (we're looking to see if we should add room to access cereal or items for children in lower cabinets) or pets (to add space for a dog bowl at the end of the cabinets)?
Are parents or those with mobility issues visiting? (Should we create an accessible space?)
Do you entertain frequently?
Q: How will Wineteer Construction help me to choose the materials for my kitchen remodeling project?
A: We will always go with you to pick out the materials for your project so you are never making design choices on your own. We typically start with the countertops before moving to the backsplash, cabinetry, appliances, lighting, hardware, and flooring.
Q: What does the kitchen countertop selection process entail?
A: Kitchen countertop selection also begins with asking questions, including color movement, pattern variation, and color palette. We'll help guide you if you should choose man-made quartz (which is great if you want to prevent staining), but you may opt for traditional natural stone. Countertops are like artwork as they are all unique in their own right. We'll go with you to select your countertop and ensure that the selection will coordinate with the backsplash. We will help you choose materials that artfully work together, maybe even opting to select a different material for the island in contrast to the perimeter countertops.

Q: How does Wineteer Construction help me choose a backsplash?
A: Wineteer Construction will help you select a backsplash through our proven selection methods. With our 30+ years of experience designing kitchens we know when pieces need to coordinate versus contrast. We can go bold or traditional with the tile selections based on your personality and style. We want every component of your custom-kitchen to reflect you. Even if the tile we select does not have lots of color we may add various patterns in a plain or solid backsplash to ensure the backsplash is still interesting and unique for your kitchen. Since we walk into backsplash selection with the countertop decided we can show you potential tile options and patterns, similar to a visit at the optometrist. "Do you prefer choice one or choice two?"
Q: What do we select after the countertop and tile?
A: Cabinetry is another major component we help our clients select during their kitchen renovation process. We have unique ways to help our clients create open space in their kitchens, such as pulling cabinets back from the kitchen window and allowing the backsplash to flow up to the ceiling and around the window. Depending on the height of the ceiling in the kitchen we may run cabinets all the way up to the ceiling or may choose to have varying heights of the cabinets. At Wineteer Construction we determine this during the design phase. We come to you with our proposed layout of your kitchen and then we work together to ensure that design makes sense for you long-term.
As your trusted contractor we will know when to recommend accent colors with glass cabinets, what exhaust systems and appliance layouts to recommend, and what features to include. We have experience creating specialty cabinets in all sorts of nooks and crannies such as spice racks, a coffee center, an appliance garage, a cutting board rollout station, and more! With cabinets, we often find that selecting the features of the cabinets can be the hardest part, but at Wineteer Construction we make it easy for you with our decades of experience. WIth all aspects of cabinetry, including wood species and paint or stain, we will help focus you by providing options for selection.

Q: What are the final elements of the selection process?
A: We will help you determine what types of appliances (freestanding range versus cooktop and wall oven, built-in drawer microwave versus upper cabinet microwave versus freestanding microwave, any specialty appliances to include, two sinks for multi-prep cooking or only one sink), what lighting to incorporate (under cabinet, in-cabinet, and above cabinet lighting, pendants, single fixtures, and decorative lighting), hardware (pullware vs. knobs, accent hardware vs. blending in to the cabinetry), and flooring (wood, tile, or LVT plank). All of this (when carefully thought through) will bring a very unique kitchen that reflects you and your personal style and taste. Don't wait! Let the experts at Wineteer Construction design and execute your beautiful kitchen remodeling project today!