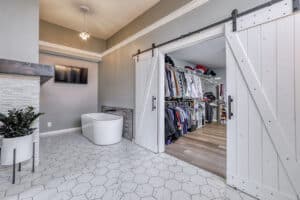 The story of the luxury spa bathroom continues! (If you haven't yet, check out part one here where we discuss the tub area and vanity remodel.) Our couple also needed help organizing their closet space. We made some simple updates by adding hardwood floors and new lighting in the ceiling. While the overall layout and function of the closet worked for them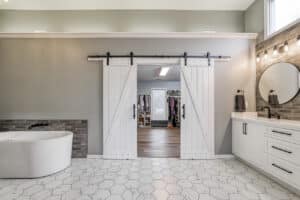 they didn't like that they couldn't close off the space, bringing the clutter of the closet into the bathroom. To combat this we added new barn doors, a simple way to section off the closet from the rest of the suite. These simple white barn doors with matte black fixtures bring a coziness and warm feel to the environment. While the doors are certainly a functional element of the room, they also bring in an organic and earthy vibe, making the bathroom truly an oasis.
For the couple's new shower, we repurposed the area which previously held the toilet closet to install a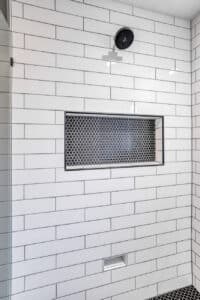 new barrier-free shower. While the couple previously had an extremely small shower area, by taking over some of the spacious bathroom we were able to create a luxury shower experience. The toilet then moved to the space where the previous shower lived. We also installed a pocket door to close off the shower and toilet area from the rest of the bathroom and suite to create privacy.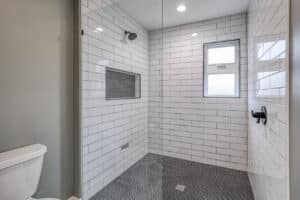 The new shower is gigantic and a much better use of the suite real estate. We used 4 x 16 subway tile in white for a simple design throughout, but we added matte black edge profiles to add a striking design element. This complements the matte black fixtures in the shower, vanity, and tub area. The shower door is a frameless shower door, standard for our barrier free showers. The floor and shower caddy both feature a black penny tile for a contrasting design element. Overall, this bathroom went from spacious but awkward to a complete luxury spa experience!