Back
A Kitchen Puzzle: Design and Delivery
02/09/23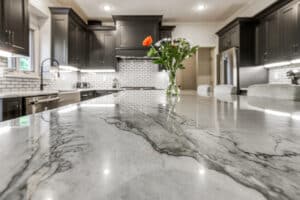 The story of our family of four on their kitchen remodel journey resumes now that we added two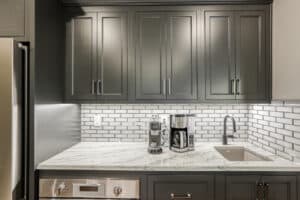 feet of real estate to the kitchen by taking some space from the massive garage. We were able to enlarge the mud room in this remodel which allowed the refrigerator door to open completely instead of banging against the wall. This is an example of ways that Wineteer suggests design features like this to employ for all of our clients. Who wants to have their kids banging the fridge door against the wall every day? With the additional room we were able to add a longer and larger island complete with seating, one of the original requests from the client. We also greatly increased (more than doubled) the space in the cabinetry storage.
RELATED: Tips to Maximize Cabinet Space
Considering the design elements, the family wanted to add a flair to their kitchen so they selected a glass tile backsplash with a mirrored edge. In the images you can really see how both the glass tile and mirrored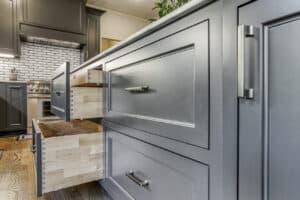 edge add a unique element to this project. We installed a Blanco siligranite farm sink with a Moen pull-down spring-loaded faucet, both popular selections for hardware and sink style.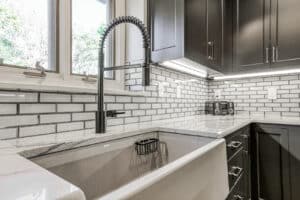 A unique feature for this kitchen remodeling project was the addition of a multipurpose station, combining vegetable washing and a coffee sink. The idea for this was at the request of Mom, who wanted to allow someone to fill a water bottle while she was using the main sink for dinner prep. She also used the cabinet directly above the sink for water bottle storage to make it easy on the kids (and her husband too!).
We installed all-new cabinetry in Ironore, one of our favorite colors in 2022. The cabinets have LED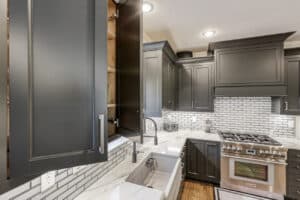 under-cabinet lighting, a luxury but standard Wineteer feature that helps to brighten up any kitchen space. The doors are also inset, another premium cabinet look that we recommend for all of our clients, as it really helps to elevate the look of your cabinets and create a seamless experience. Some custom features of the cabinetry work include dovetail drawer boxes and an appliance lift. The countertops (standard quartz) also have waterfall edges, which are curved over for a unique design.
At Wineteer Construction, we love the challenging designs – the ones that stretch us to come up with a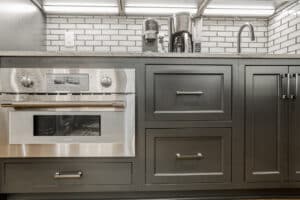 solution that is not only aesthetically pleasing, but one that functions for you day-to-day. This kitchen remodel was such a fun one for us because we had the opportunity to challenge ourselves and produce something that the client loves.
Check out some additional photos for kitchen inspiration!