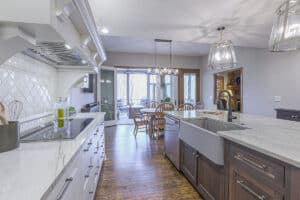 It's a common thing we hear: "my kitchen is outdated". While we do bring aesthetics into all of our remodeling projects our bigger question is always "what's not working for you today?". With this client their main pain point was that they didn't like the outdated look of their kitchen and found the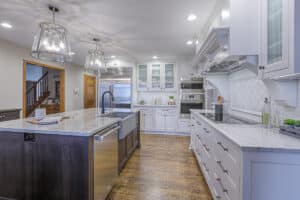 kitchen divided up their living space. One of our primary objectives with this remodel was to bring together the kitchen and kitchen dining area, which we accomplished by replacing their dividing wall with a structural beam to open up the space. As we shared in our first update about this project we were able to create a true indoor/outdoor living arrangement for our client where the deck flows into an enclosed patio surrounded by windows, which in turn flows into the kitchen, accessible via two french doors. It's truly a great space for entertaining, which our clients love to do, especially during football season (go Chiefs!).
For the functional changes of the space we created a landing area between the refrigerator and the oven to allow our clients to transfer food items between the two spaces. This is like a drop zone for food and gets rid of the "where do I put this" conundrum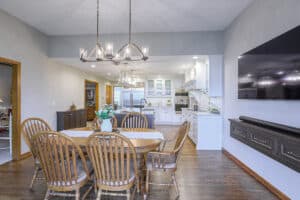 that we often encounter when there are many cooks in the kitchen! We also found through talking to our clients that they could not always see all of their pantry goods so we included rollouts in all of the pantry cabinets, making all materials accessible.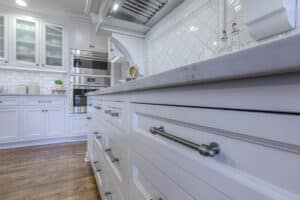 We echoed this design in all base cabinets, and all doors are inset to give the space a timeless look. The cabinets in the kitchen extend upwards to the ceiling to maximize storage solutions and create vertical lift.
We made several modifications around the oven and cooktop, adding exterior exhaust to the hood and installing large drawers underneath the brand-new cooktop for pots and pans. We also added a unique hood cabinet over the wide cooking surface in lieu of the traditional all-in-one oven. Glass upper cabinets were installed on either side of the cooktop to give the feeling of a more open look and bring in brightness. Even with this obscure glass this adds a brightening effect overall.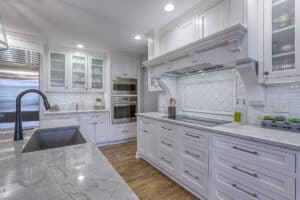 Like any project, this kitchen also has unique details, such as the backsplash behind the cooktop in an arabesque pattern. The island was also purposefully made to contrast the kitchen and is real dark walnut wood with a colorful piece of quartzite. We were challenged to cover a strangely located drain pipe put there by the original builder, and did so by installing a skinny cabinet that the owner refers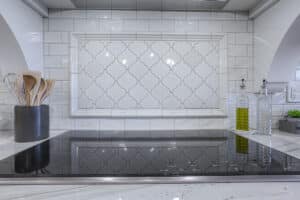 to as his "can cabinet" for canned goods. This cabinet is also accented in walnut. To bring in the entertainment focus of the space we added a media cabinet for the kitchen dining area right below the TV. The client also chose to install heaters on their outdoor patio to create a cozy environment, even in the chilly fall months.
We loved every part of this project and were thrilled to bring the clients' goals of an entertainment space and workstation kitchen together into a seamless experience. We created a large area to work at the sink, a standalone cooktop, a prep station near the refrigerator, the ability to handle food at the pantry and double oven, and also have people at the island to visit during the game. If you're ready to have a similar dramatic before + after, give Wineteer Construction a call! We can create the indoor/outdoor kitchen and living situation that will last you a lifetime.