PRAIRIE VILLAGE, Kan., (Dec. 12, 2014) — Katy Dodd, Vice President of Business Development at LifeWise Renovations, recently completed the Goldman Sachs 10,000 Small Businesses Program. The program is a $500 million investment, designed to help entrepreneurs create jobs and economic opportunity by providing greater access to education and business support services. Ms. Dodd joins more than 2,500 leaders to date from around the country, who have completed the program.
The 10,000 Small Businesses Program is designed by Babson College—a leader in entrepreneurship education. Ms. Dodd attended intensive, four in-person, clinic sessions in Boston to recieve advice on maximizing LifeWise Renovations' business, including how to access more financial capital. She also dedicated several hours of course work each week to create a customized growth plan for LifeWise Renovations.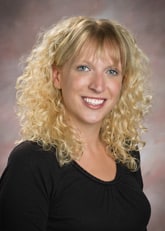 "The practical business and management education I received from the Goldman Sachs 10,000 Small Businesses Program is nearly immeasurable," said Katy Dodd, who earned a Bachelor of Science degree in Business Administration and Economics from Rockhurst University and serves on the LifeWise Renovations Advisory Board. "I am honored to have been selected to participate and enjoyed every minute of the experience—especially the collaborative, networking setting with other small business owners."
LifeWise Renovations relies on Ms. Dodd to work with several prominent local rehabilitation hospitals, health care facilities and occupational therapists to discuss environmental adaptation and the medical home. Ms. Dodd earned her Certified Aging-In-Place Specialist (CAPS) designation in 2010. She serves as an executive board member with Case Management Society of America in Kansas City and as a council member on the Mid-America Regional Council (MARC), First Suburbs Coalition, where she developed a series and was a featured expert on the benefits of universal design to accommodate multiple generations.
About LifeWise Renovations
LifeWise Renovations (www.lifewiserenovations.com), a professional design and remodeling services company, is Kansas City's premiere Certified Aging-in-Place Specialist (CAPS) and universal design remodeler. Owned and operated by trusted experts, with more than 70 years combined experience in residential design and construction through it's parent company, Wineteer Construction (www.wineteerconstruction-staging.ahn2k5uj-liquidwebsites.com). LifeWise Renovations and its staff of certified healthcare professionals are uniquely qualified to create attractive, functional homes designed for anyone, regardless of age or ability.