Back
New Windows for a Bright English Tudor Home
10/10/22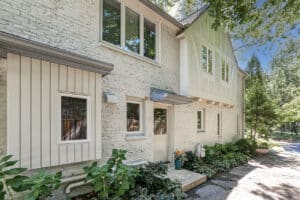 At Wineteer Construction we're passionate about great home remodels that our clients walk away loving, but we're more passionate about creating client relationships that are built to last. This client has been remodeling with us for over 20 years and we have had the chance to touch almost every part of their house at this point! We'll plan on sharing more about the entire whole home remodeling experience but for this post we will focus on the window remodel we were able to complete.
One of our first projects with this client was to build a garage and kitchen addition (which required brand-new windows) and replace some windows in other areas of their home as well. In recent years we have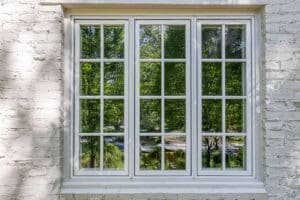 completed the final phase of window replacements with adding new sliding patio doors and replacing the remaining windows. Keeping the English Tudor style of their home was important to our clients so when we installed new true divided light windows we selected a bright-white style that mimicked the original windows to maintain character. All of the windows that we selected are aluminum-clad exterior and painted wood interior. These traditional materials are aesthetically pleasing but also keep out the elements and allow for easy cleaning.
The modern casement windows that we added are energy efficient, use Low-E glass, and are filled with argon gas. Casement windows are also known as crank windows, as they are opened with a handle to the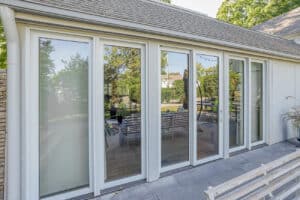 left or the right. The Low-E glass (short for Low-Emissivity or Low-Emittance) contains a microscopic coating that makes a window more thermally efficient, saving you money on your heating and cooling. The coating is thin, non-toxic, and virtually colorless, so you won't even notice it when your windows are installed! Argon gas has been used in window manufacturing for years with double-pane windows. This gas filling can help insulate a room and minimizes heat transfer through glass, again helping to save you money.
The best part about this window and door replacement project was that we already knew the taste of the homeowners when we began, which is why we prioritize client relationships. Having already brought in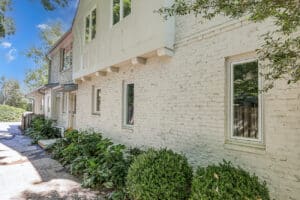 an art gallery vibe to the back-half of the house in a previous project, we knew the dichotomy of styles that our client was looking to achieve. In doing this we did not take away from the English Tudor style of the house with the window replacements but rather elevated it and ensured that all components of their home worked together. Whether you are a new or existing client, we can update your windows and ensure that the character of your home is preserved.