Thanksgiving is a time to surround yourself with loved ones while sharing your appreciation for the many blessings and opportunities that have come from the past year. To ensure your Thanksgiving starts with the heart and offers a warm, welcoming holiday gathering for friends, family and others, take these tips into account:
Focus on the big picture.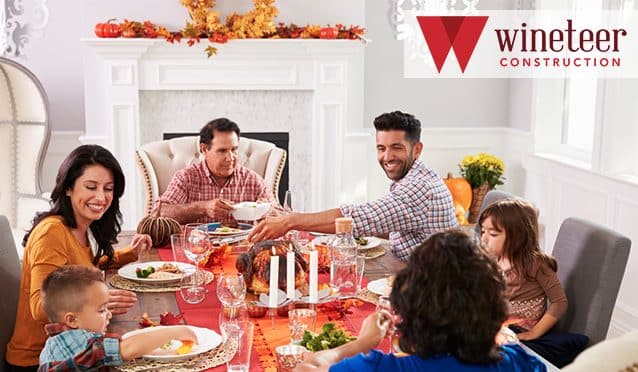 Let go of all the little details in creating the Thanksgiving feast and ensuring every corner of the house is pristine. Don't focus on perfection, but focus on the people. The last thing that should enter your home on Thanksgiving is stress. Instead, look at the big picture and enjoy the reason for the holiday with the people you love. A couple dirty dishes and mismatched place settings are not going to end the festivities.
Prepare in advance.
Typically, Thanksgiving consists of many delectable dishes that can be prepared a day or two before the holiday. Even if this isn't the case for your upcoming menu, think about washing, cutting and prepping the fruits, vegetables, etc. to save you a lot of time in the kitchen on Thanksgiving Day. The less attention you need to put to cooking, the more attention you can put to your loved ones.
Redirect guests from the kitchen.
Place appetizers in the living room, and create a drink station near the butler's pantry or just outside of the kitchen for easy access for guests. The kitchen is the heart of the home where people typically gather, and the less people need to access certain areas – like the fridge, pantry or freezer – the more space and freedom you'll have in your kitchen while cooking.
Have your kitchen laid out for you.
You should be able to have your kitchen laid out the exact way that works best for you. Remodels that focus on customization are currently trending, with about 86 percent of first-time home buyers and repeat home buyers reporting this as their reason to renovate (Houzz). Imagine what your ideal kitchen would look like.
Check out our gallery for kitchen ideas.
Wineteer Construction is a family-owned business that focuses on beautiful design, high-quality products and skilled craftsmanship. When you decide to update your home with Wineteer Construction, we will ensure your satisfaction by communicating efficiently, keeping you in your home and in the rooms being remodeled, and always guaranteeing your projects are "Planned Right. Priced Right. Done Right."
Schedule your free consultation.