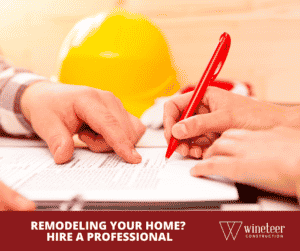 Home remodeling projects can range from simple and quick fixes to intricate and time-consuming work that when done wrong will cost more than you anticipated. Making and update to your home or a room in your home is time consuming and may not fit in your schedule, and having a DIY plan may turn into walking around an unfinished room for a long time.
When the time for remodeling a special space in your home comes, like your kitchen, bathroom, patio, or the whole house, always consider hiring professional remodeling and construction experts. Trained professionals are highly familiar with the intricacies of designing and developing new spaces.
Experience and Quality
Supported by years of experience and professional accreditation, professional contractors have the knowledge and expertise that will ensure your remodeling project has the design, budget and project time frame that best fits your needs.
Time and Money
Professional contractors work under very specific guidelines to ensure they abide by their client contracts. These include a well-developed plan based on your remodeling needs and allotted budget, a schedule of work, and, of course, project management throughout the process.
Reduced Risks
Let's face it, DIY projects tend to lead to bad project outcomes and injuries, costing you more money and time than expected (Porch.com, provides a great visual aid to understanding injuries caused by DIY projects). When you hire an expert, contractors are trained to use their equipment and are knowledgeable of the safety risks and measures that need to be taken when working on a project.
Warranty and Trusting Work Relationships
Trust is a great motivator to work with someone. Once you find a company or contractor that provides excellent customer service and guarantees its work, you will have a lasting work relationship. Whenever you need a new home update or someone asks for your opinion on contractors, you will know who to call.
At Wineteer Construction we are proud to deliver high quality work. We do so thanks to precise planning, pricing and execution. From custom designs to kitchen, bath and whole house remodels, we create beautiful spaces that are comfortable and functional.
Contact our experts to get started on your next project.