Back
Timeless Fallbrook Multi-Project Update: Bathroom Part Two
04/11/23
For this project, we built a new vanity and brought in completely custom cabinets. Our recommendations for cabinetry work, to create an elevated and elegant look, is to add inset doors and drawers. Quartz countertops were selected for the vanity. We also chose to use more modern, sleek fixtures throughout. We added framed mirrors for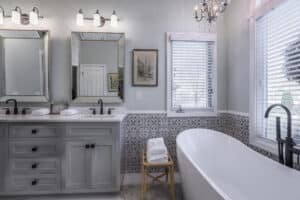 a striking look and raised the sconce lights to include taller mirrors. The client liked their crystal chandeliers in their bathroom so we made sure to keep those in the space.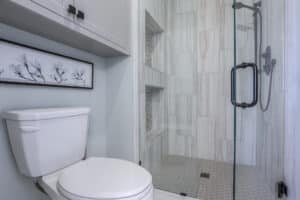 The tub area, as mentioned previously, was changed from a built-in to a freestanding tub. We added a tiled wainscot for both accent and personality. The fixtures on the tub area are matte black to coordinate with the drawer pulls, tying everything together. We kept colors in the gray and white family for a modern look in the space.
We also added a Wineteer Construction specialty: the zero-entry shower. Our zero-entry showers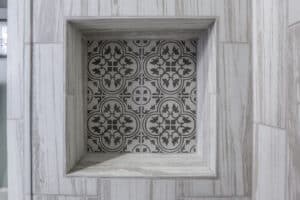 instantly make a space more elevated, by removing the barrier and creating an inviting, welcoming space. For this shower we chose to use a large format 12 x 24 tile. We elected to stack it vertically instead of horizontally as it was the design-choice that made the most sense for the space. It also brought in a unique design for the shower. At Wineteer Construction, we always think outside-the-box and work to bring unique design elements to your space so your project is uniquely yours. We added an inset shower caddy in the shower that matches the wainscot tile, which provides a striking accent. The doors are frameless shower doors with matte black handles.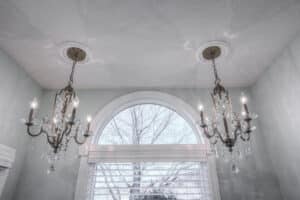 We loved designing this bathroom for our client! This project had a specific request to update their bathroom to create a more modern look and feel. We accomplished this by adding modern design elements, but we also chose classic grays and whites with matte blacks to keep the look timeless. Check out more of our custom bathroom remodeling projects here.