The spring and summer seasons are a busy time of year for socializing and celebrating. But with the rising cost of overbooked event spaces, many people are looking for more meaningful alternatives for a place loved ones can gather.
Hosting an event at home can be the best reason to finally tackle that renovation project. The focus will help you define a budget, prioritize changes and stick to a timeline. And, once completed, the remodel will be enjoyed by your family for years to come—and hopefully increase the value and appeal of your home.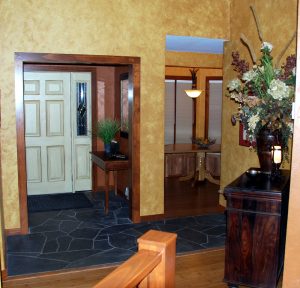 If you already own a large home or a scenic piece of property, your family or friends have already begged you to host an important reception. For more relaxed and smaller occasions—like a bridal or baby shower, an important anniversary or milestone birthday—the project might focus on renovating an entrance space and front formal room. An all-day affair, like a family reunion or a graduation open house, might lead to retooling a backyard space and even remodeling the kitchen. And of course, the mecca of event hosting, a grand wedding might require finally adding that extra room!
Whether the event is large or small, even simple updates can make all the difference.
Replace old carpeting with hardwood or tile flooring.
Update lighting fixtures to offer adjustability for mood setting and great pictures.
Add texture/depth to wall treatments and place molding round doors/ceilings for a rich look.
Remove a wall to expand a space or add an extra room for a more open floor plan.
Keep the decorating clean and simple, so that special flower arrangements and even mounted pictures will be specific to the occasion…and changeable for your next event!