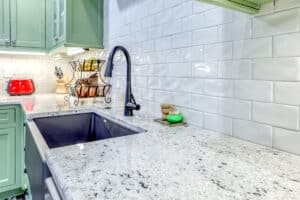 We believe that houses have the ability to tell a story; we love helping our clients tell their unique story through their home. Sometimes our projects begin with a house that already has unique character, which was the case for this Brookside remodel. When we walked through this home we quickly dubbed it as a "Storybook Home" and even included this theme during the prospecting and bidding process. At Wineteer Construction we are passionate about each customer's project and bringing to life their vision, which we wanted to convey from the beginning of the conversation. We found that our clients (two pediatric doctors with young girls ages 13 and 8) had a love for travel, were passionate about collecting art and supporting mall artists, and had a love of plants and even a pet bunny. (Those last two came from the girls, whose needs were included in our remodeling process!)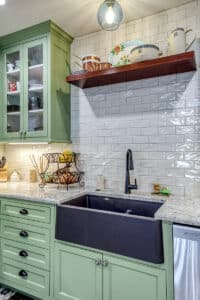 Their home already had so much character built in but was lacking in function for the family. They were cramped in their space so we embarked on a journey to make their home work for them while maintaining the out-of-a-novel aesthetic that the home was already exuding. That's why for this complete kitchen remodel plus master and guest bath we focused on bringing in personal touches to our client's already lovely, one-of-a-kind home.
In our initial design conversations we talked with our clients (a family of four with two young girls, ages 13 and 8) about what they enjoyed about their home and what needed to change. We found out they liked color but didn't want too many colors to overpower the English Tudor style of the house. Our mission here was to incorporate their love of yellows and reds in a way that felt special to the client yet timeless for future generations.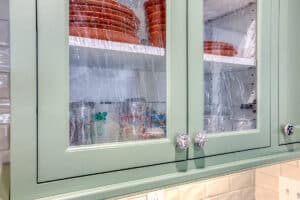 For this home we'll walk through the entire home remodeling process, starting with the kitchen. Our new design for the kitchen focused on opening up the old galley kitchen to create more room for pantry items and appliances. Despite getting rid of an entire wall between the kitchen and dining room, the new design does create more storage solutions. When we design our new concepts for clients we have to consider the logistics of the home. The house originally had two exposed brick structures on either side of the wall and we removed only one of these, as there were plumbing and vents (crucial structural components) that needed to be preserved in one column.
The kitchen is where we chose to go bold with color and got to embrace our clients' love of art. Our focus was to use traditional elements in a more modern way to create a timeless but classic look that elevated the space. We brought in brand-new cabinets in an industrial finish matched to Sherwin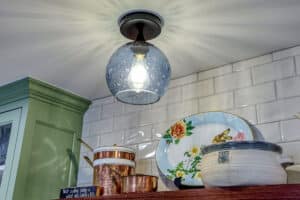 Williams Onyx Green. The backsplash features MSI antique white subway tile with a slight wave, which makes it a little different than a basic subway tile. We fondly refer to it as "upscaled" subway tile. The creamy white helps elevate the backsplash beyond a traditional basic white. To ensure harmony in their new kitchen with the existing yellow and reds throughout their home we brought in a granite countertop from SCI (called cotton white) that features creamy yellows and wine-colored reds and purples. Our clients chose to order their own hardware separately and we fell in love with her mismatched black and white cabinet pulls that are artist-made decorative glass. They help to tie in with the apron-front farm sink and matte black faucet from Moen as well as the uniquely patterned floors. The sink is a different color so we made it a highlight and feature in the room.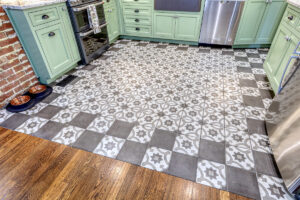 This kitchen floor is certainly eclectic! We used Quartetto tiles from Daltile. This product is a fun one, as the porcelain tile comes in eight different colors and eight different decorative patterns, making it perfect for creating a unique, artistic element in your home. If you're feeling creative and wanting to make a design that's all your own, we can help you do so with Quartetto. The product has both warm and cool color palettes and lets you choose to create a personal design or something more traditional. The signature 8×8 shape can be easier to work with than creating a custom tile pattern from scratch which is part of the appeal. For this design we originally planned on checkerboarding the entire floor, but after seeing the layout our clients felt this would just be too busy. We pivoted and chose to checkerboard the perimeter only. This brought in the unique design that Quartetto offers without overpowering the space.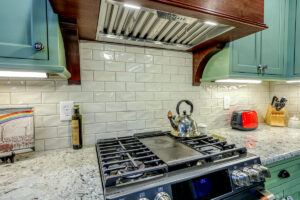 Other features of the kitchen include floating shelves which were chosen for both a highlight and contrast so our clients had additional storage but avoided what can be the monotony of continuous upper-level cabinets. We also took the backsplash tile all the way to the ceiling, which is a classic Wineteer Construction design choice that we often incorporate. The backsplash is consistent with the bicycle glass that was used for the chandelier centerpiece of the kitchen. This was the first job that we've ever used bicycle glass for, but since then we have used it in many other jobs as well and have our clients to thank for the fantastic shop recommendation!
Another element of this kitchen remodel included installing a coffee bar adjacent to the kitchen. The existing space had existing cabinetry in poor condition that was replaced with new cabinets in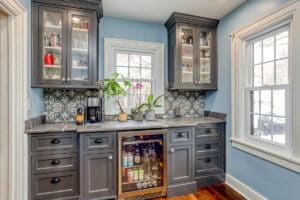 Sherwin Williams Iron Ore. The color scheme for the coffee bar varies from the kitchen to differentiate the space and features dark grays and blues. The space already had a beautiful window with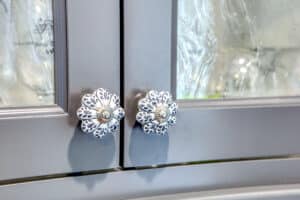 gorgeous glass that we wanted to imitate in our upper cabinets so we included glass panels. We also left the interiors of the cabinets white for additional contrast and to brighten it up. Our clients voiced their desire to add a beverage fridge to the space, so we removed some cabinet storage to account for the new appliance. We were also thoughtful about cords and wires and had a hole cut in the counter for appliances to remove the need for an outlet in the backsplash. The backsplash is also Quartetto (not just used for floors!) and we feature it in the guest bathroom as well. Since our clients are a big fan of plants we made sure to offer a space for greenery next to the window. Since it was important to our clients to match the glass in their cabinets to their unique front door we searched to find glass that would align. This was such a fun project to see come to life with all of the personal touches and special features!