Back
AIP Bathroom Design Part Two: Features and Fixtures
11/18/22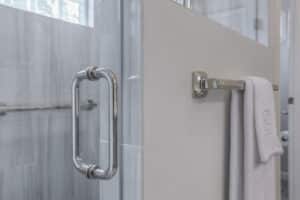 As part two to our recent accessible bathroom remodel, today we're sharing about the other accessible features in the space. These include a high-end and aesthetically pleasing flip-up-flip-down shower seat, a shower caddy that is reachable by the patient when they are in the seat, and several towel bars and grab bars (both within the shower and outside the shower). These grab bars support the weight of a patient but look elegant enough to just appear as a towel bar. To ensure natural light comes through the space we included a glass block window and made the shower wall half-glass so light can continue through. This was not a feature that was in the space previously and was custom-designed by Wineteer Construction. In fact, the space previously hosted a Whirlpool tub where the shower lives today.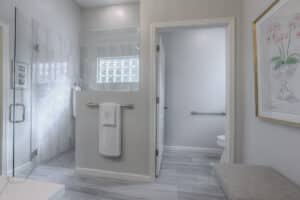 This master bathroom includes a Wineteer custom feature: outlets inside the cabinets so all small appliances (such as toothbrushes) can be permanently plugged in and hidden from view. Little details that make life easier are Wineteer's specialty! The medicine cabinet is 6 inches deep and is hidden behind the mirror. We added brand-new lighting to the ceiling and walls with a new chandelier, sconce lighting, and specific lighting for the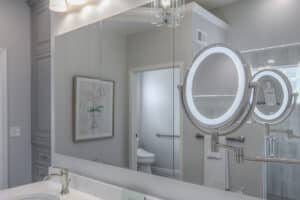 shower.
The toilet closet was made larger to accommodate a walker or wheelchair. The doorway was opened up and made into a 36-in door (standard for accessible spaces). We also added an outlet by the toilet and a bidet toilet seat. These were all features that our client didn't have to think of as we are experienced with creating AIP master bathrooms. This took one more thing off the client's plate and made it so the remodeling process was as easy as possible.
For faucets and features we included polished nickel (which is like chrome but has a gold-like stainless steel finish). This bathroom features cabinetry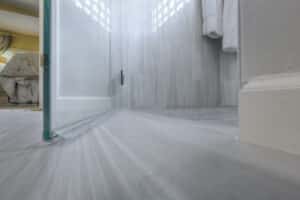 work from Decker with inset doors and drawers and also includes a roll-under vanity for the patient's wheelchair. (This doubles as a makeup vanity if you add a chair beneath it.) The floor-to-ceiling linen cabinet we installed was designed specially to house the patient's totes of medical supplies. We placed this where the previous shower lived in the original design as it made the most sense for how the couple uses the bathroom today. This is a great example of how we design to make the space work for you and your needs, both today and in the future.