Back
Bathroom Design: Aging in Place
11/13/22
At Wineteer Construction we are Certified Aging-in-Place Specialists and are experts when it comes to creating accessible spaces. We approach these projects no differently than any other bathroom remodel, and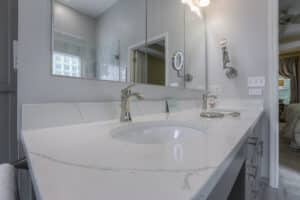 always start by asking questions to better understand our clients and their needs. Some of the questions we ask our clients is to share their likes and dislikes and what works in the current space and what doesn't. We ask who uses the space and at what times and talk about functions pertaining to both storage and physical needs. For accessible spaces we ask specific physical needs questions which may include asking if there's a side that is stronger than the other, how many years the person has been managing their condition, the person's weight, the strength of caregiver, type of wheelchair or walker, and progression of the condition. We know that remodeling with accessibility as a main focus can be a stressful time and even overwhelming, but we strive to make this process as easy as possible. We know what questions to ask so you don't have to worry about it!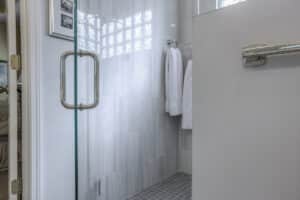 For this particular client in Kansas City, they were interested in redoing their master bathroom to allow the wife to care for the husband who has Parkinson's disease. The wife wanted the master bathroom to still have the aesthetic appeal of a high-end master bathroom and not look like a sterile hospital setting. We specifically chose features to make the home accessible and ensure that the bathroom stood the test of time: a prime example of remodeling for life. You wouldn't know this bathroom was designed to be Aging-in-Place (AIP) unless someone told you.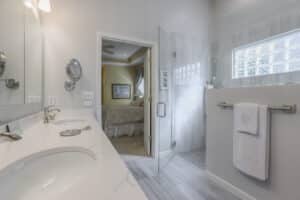 The design of this aging in place modification project was crucial to a successful remodel. We ended up changing the entire layout of the space to ensure accessibility and accomplish our client's goals. With Parkinson's we know that the patient can become cold very easily so we elected to install heated floors (a standard feature in a high-end master bathroom). Heated floors are best used with cool-to-the-touch tile floors and include a digital screen for floor warming to customize the temperature. We of course installed a zero-entry, barrier-free shower. We made a design choice here specifically for the needs of the patient to add slight color variations. With Parkinson's a person can literally freeze if too much looks the same and these color variations help to minimize the freezing up of the patient.
RELATED: Why Consider Heated Floors in Your Bathroom Remodel
As certified Aging in Place modification specialists, our goal with this project was to update a bathroom to look great but also be accessible for our client and the needs of her husband. By knowing the right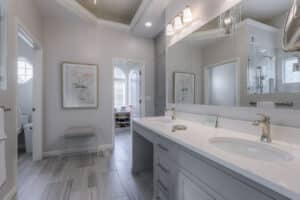 questions to ask in the consultation we were able to reduce stress on our client. She didn't have to worry about educating us on AIP remodeling. In fact, with our knowledge we were able to prescribe certain design features to her! This project is exactly what we mean by remodeling for life: creating a beautiful, adaptable bathroom that can accommodate people of all sizes and shapes, but is also tailor-made for this individual.