Back
Why Consider Heated Floors in Your Bathroom Remodel
07/19/23
Heated bathroom floors are becoming more and more popular when homeowners consider upgrades for their bathroom remodel. With several competitive advantages, heated flooring is a very good alternative to the conventional heating system requirement in the bathroom.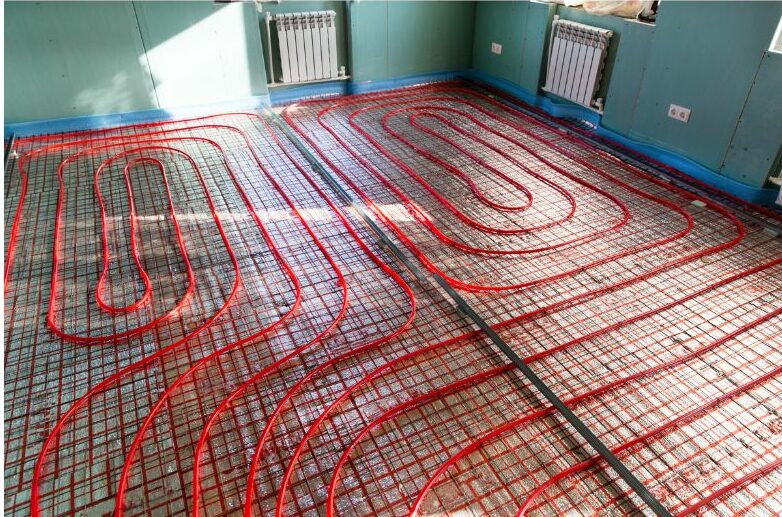 In this case, electric in-floor mats or hot water pipes are installed underneath the bathroom flooring. This special arrangement dissipates heat and keeps the flooring surface dry and warm.
In this article, Why Consider Heated Floors in Your Bathroom Remodel, you will learn all about heated floors in the bathroom, including the installation process, associated costs, advantages, disadvantages, etc.
Are Heated Floors in the Bathroom Worth It?
The heated floor in the bathroom offers many advantages. Some must-mentions are that this type of floor circulates a sense of luxury, reduces energy costs, offers health benefits, increases property value, and more. Companies like Wineteer Construction in Kansas City offer many heated flooring solutions when completing bathroom remodels. Below outlines some benefits and considerations with heated floors.
Luxury
The heated bathroom floor creates a sense of luxury, and high end comfortability. It symbolizes your taste for exclusivity. Stepping on the respective fully dry and warm bathroom covering is a satisfying experience. Many homeowners who are considering a higher-end bathroom remodeling project budget for heated floors.
Saving Energy Costs
In cold regions, house heating cost minimization is always a challenge. The same goes for the winter seasons in almost all climates across the United States. In this case, keeping the bathroom warm consumes enormous energy due to the unavoidable watery context.
Heated flooring restricts the need for conventional heating arrangements in bathrooms, saving considerable money. We must mention that the costs associated with operating the heated floor are far less than those associated with the traditional heating arrangement. The surface area for a heated floor is much less than the area of the entire bathroom.
Health Benefits
Heated floors eliminate cold-related discomfort. Suppose you or your family members have health issues like allergies, inhalation problems, arthritis, etc. Heated flooring can be a solution that will help with many of these ailments. The heat not only removes the wet feel of the bathroom, but it also eliminates the chance of dust circulation. As there are no forced-air heating systems, there is no dust circulation.
Moisture Control
Obviously we use a lot of water in the bathroom. The associated wetness eventually hosts mold and mildew growth. Heated floors in the bathroom restrict such happenings and ensure a more hygienic environment. The reduction of moisture in the bathroom will reduce the potential mold/mildew growth, so the house will circulate healthier air.
Increased Property Value
In the real estate market, installing heated flooring in the bathroom is considered a valuable addition. It provides you with a bargaining point in the case of selling or renting the house. To cut a long story short, a bathroom remodel that included heated floors will increase the property's overall value.
RELATED: What to Ask When Considering Heated Floors
How to Install Heated Floor in the Bathroom
OK, you're sold on integrating heated floors in your upcoming bathroom remodeling project. But, how does this work? One way to ensure the heated floors are done properly is to work with your design and builder during your bathroom remodel. If you're considering DIY, below are guidelines for installing in-floor electric mats to heat your bathroom floor.
Step 1: Identifying Electricity Source
First, locate the suitable electricity output unit to power the electric mat. We also suggest you get a programmable thermostat to restrict the wastage of electricity. This thermostat will deactivate the electricity supply at night and at non-use times.
Step 2: Formation of Cement Slab
On the main surface of the bathroom, you have to create a 0.15-inch thick cement floor. Just purchase an appropriate amount of cement and mix it with water (proportion 1:3). And lay the mixture on the main surface. Let the layer dry properly. We suggest you follow a proper curing process. Now, on top of this thin cement layer, install factory-made cement boards with associated screws.
Step 3: Preparation of Power Inlet
Place a wooden plank (10 inches X 6 inches X 3 inches) on the newly created subfloor. It should be near the power outlet unit. Now, install power conduits with connectors and create notches to lay the power cables nicely.
Step 4: Installation of an In-Floor Electric Mat
In this step, install two-way adhesive tape on the floor at a 1-foot interval. Now, install the mat. We suggest you keep a 1-inch gap between the corner of the mat and eternities like bathtubs, showers, wash basins, etc.
Step 5: Fixing the Wires
Use glue to fix the mat's loosened parts and the wire's extended portion. Now, connect the wire with the power conduits' connectors.
Step 6: Final Work
Again, form a mortar layer on the mat. The thickness should be 0.5–1.0 inches. On top of this layer, place the final covering, like tiles, etc. You have successfully installed heated floors in the bathroom.
Seem a bit too advanced for your DIY abilities? Reach out to your local bathroom remodeling company for design and pricing suggestions. Residents in the Kansas City area find Wineteer as their go-to for all elite bathroom remodeling projects.
Advantages and Disadvantages of Heated Floors
The table below elaborates on the pros and cons of heated floors in the bathroom.
| | |
| --- | --- |
| Advantages | Disadvantages |
| Facilitates greater comfort | Installation requires specialized knowledge and expertise |
| More room space as there is no need for radiators | Some may find the additional cost is pricy |
| No wetness | For larger bathrooms, the cost matters |
| Facilitates hygiene and health benefits | Faulty in-floor materials replacement is critical |
| Cost-effective | Not compatible with every type of floor finish |
Should You Consider Heated Floors in Your Bathroom Remodel?
When thinking about the question presented in this article, Why Consider Heated Floors in Your Bathroom Remodel, we would like to highlight three particular points.
Installing heated floors in the bathroom won't break the bank.
The heated floor installation takes a small amount of time.
It offers advantages like energy cost reduction, property value increment, etc.
If you're in the Kansas City, Overland Park, Olathe, Parkville, or Lee's Summit area, and considering a bathroom remodel contractor, reach out to the Wineteer team today!