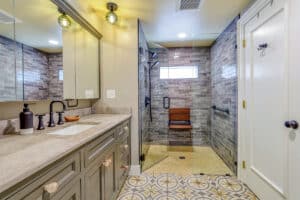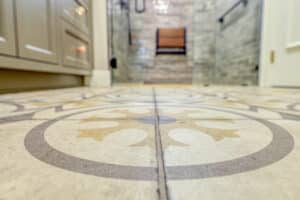 The final remodel for this Brookside home was the master bathroom. As we talked with the client about their master bathroom, we heard that the space was small and did not work for them in their day-to-day lives. Our focus for this project (as with the other two) was to create art within the remodeled elements of the house and create a more functional space. To add space we built out the bathroom into the garage. This added two feet of space and helped them add a closet to the bathroom. We also pushed the wall back into the master bedroom so we were borrowing a little bit of space from multiple areas in the house. Now the couple's smaller closet is in the bedroom but the larger closet is in the bathroom, which makes it easier to dress and prepare for their busy days.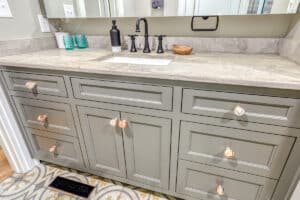 Before the remodel they had a tiny shower that didn't work for them. We added a much larger zero entry shower with Quartetto tile designs on the shower walls and small, penny round tiles on the shower floor.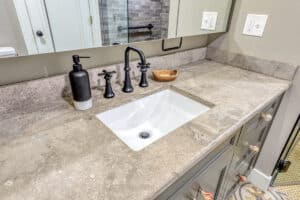 For fixtures, we used a Moen plumbing line called Weymouth that has very traditional-looking knobs and faucets. To ensure a personal touch the fixtures on their cabinetry are from their old coffee bar. The knobs are unique red, brown, and yellow hand-blown glass knobs, from an artist our client loves. There is blown bicycle glass on the sconces in the bathroom, which ties in to the glass feature in their kitchen. Throughout each project we were able to find small ways to tie the home together and create a cohesive yet artistic look.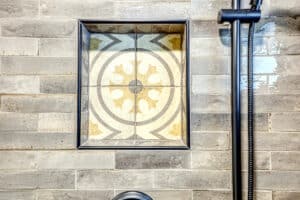 The focus of this entire project was to create art within the remodeled elements of this house. We expanded the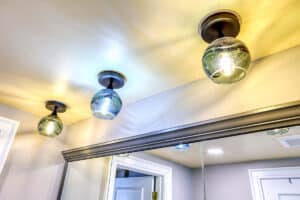 Brookside home to fit our client's needs while keeping the character of the Storybook home in tact. We took the time during this home remodel to bring out their personal touches and the artistic elements that were meaningful to our clients. All projects are a collaboration between ourselves and our clients and we loved having the chance to create art with this kitchen and bathroom remodel. At Wineteer Construction we will deliver a finished project that ensures that your new space is perfect for you and help you add personal touches to make your next project a remodel for life.