Back
Call the Experts for an Epic Spring Clean
03/12/15
Spots, streaks, scuffs, hair, fur, grime, dust, cobwebs, crumbs, clutter…chaos! It is that time of year again when almost everyone turns into a neat freak—vowing to eliminate any sign of dirt inside their home. But this year, we are challenging you to do more than sweep all the corners and dust all the crevices.
It's time for more than achieving a spotless room. It's time for a total reorganization. It's time for an improvement that will last. Do you have a major remodeling project that has been collecting dust? Is there a room you know could absolutely function better, if given the renovation time and money it deserves?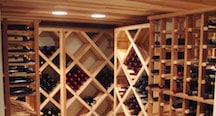 Wineteer Construction is a master at creating creative, yet practically designed, specialty projects. We always find a way to increase the storage in kitchens and closets or add extra space in a child's room. We even know how to protect and display your most treasured possessions—perhaps within a customized wine cellar.
Whether it is a major overhaul, or a good spring clean—planning is key. Read a complete list of every technique to use in each room of the house, including window washing, waxing wood or polishing metal fixtures, from Martha Steward Living. And, to ensure your spring cleaning is worth the effort, get a consultation from Wineteer Construction to reorganize your home for every season.