Physically, the kitchen is located at the center of most houses. And emotionally, the kitchen is also at the center of a home. Friends and family members gather in the kitchen to relax from the stress of daily pressures, enjoy good food and good company. Basically, the kitchen is where you go for some simple love.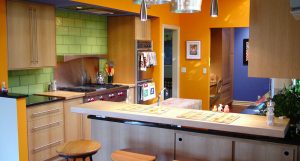 So how does this wonderful kitchen oasis turn into an overwhelming nightmare? Heartache happens when homeowners try to show their kitchen a little love with a do-it-yourself makeover.
New cabinets, counters, backsplash, flooring, appliances with all the modern amenities, recessed lighting fixtures…This long list is an overwhelming chore for a part-time handyman or independent contractor.
Love yourself enough to hire a great design firm, like Wineteer?
Get the job done, on time and on budget, by a dedicated team.
Review quality recommendations and finished projects with professional craftsmanship.
Don't cut corners or "make it work" with broken equipment or cheap materials.
See a detailed plan to ensure using bold colors or knocking down a wall will work…before it is too late.
Get advice on the latest trends and classic looks that will keep your kitchen from being outdated in 10 years.