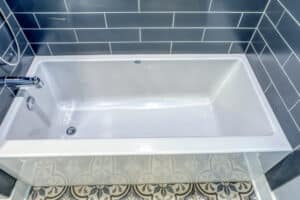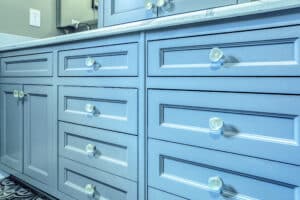 Our other projects for this Brookside home were two bathrooms: the guest bathroom that the young girls share and the couple's master bathroom. In the guest bathroom, space was the main concern. The bathroom needed to be designed so both girls could use it at once without feeling so cramped. It also served as the guest bathroom and we wanted to make the new layout accessible for when the grandparents came to visit. We chose to take the wall out and push it back into one of the girls' bedrooms which allowed us space to add two full-size vanities, two large mirrors, and even a new linen stack in between the two vanities for additional storage. We were big fans of Quartetto for this project and used it again on the bathroom floor. It's hard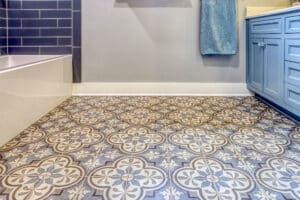 not to be a fan when it allows for cool and interesting designs that are less labor-intensive than traditional tilework. Plus the tiles are matte and not sealed so they make for good flooring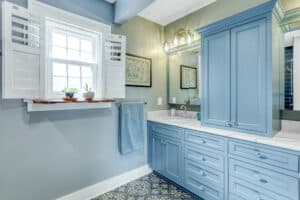 !
We installed a brand-new tub and tiled the shower with large format subway tile (which is longer and taller than traditional subway tile). We used a slate tile because of the wash of color in the cabinets and floor. By using the chalkboard slate color we contrasted the room and added a dramatic element. We kept the shower curtain as our clients didn't want to add tracks to the bathtub. The toilet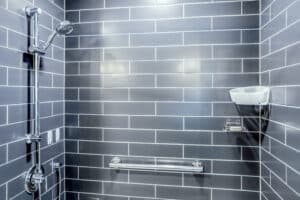 maintained its location but was replaced with anew toilet. One of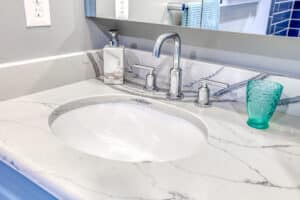 the girls had lots of indoor plants, so we created a shelf specifically to be installed in the bathroom window to allow space for then to get sunshine, while not cluttering the vanity countertop. We also installed medicine cabinets above the sinks framed with crown molding with outlets inside the cabinets. This is a custom design from Wineteer that we like to include in bathroom remodels whenever possible to create a sleek look.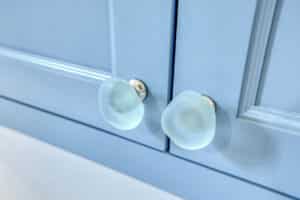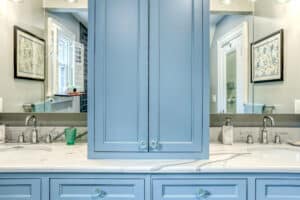 We loved these simple touches to this Kansas City bathroom remodel that elevated the space, made it accessible for guests, and ensured the young girls would have a space to grow into. Stay tuned for the final part of this series where we share about the master bathroom renovation!