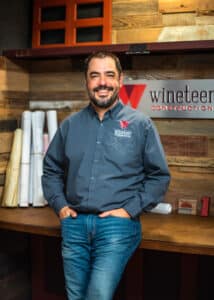 We had the opportunity to complete a unique project recently in Nick's main office! This came about when the pandemic hit and we had to start meeting with clients via Zoom initially. Nick wanted to have a more professional background for these meetings that also reflected his personal style.
We turned a section of his office into the zoom background but also made it functional. Just like any project, we want to incorporate both form and function! The backdrop of this space works as a blueprint table and allowed for the Wineteer sign to be placed in the background, branding the space and background.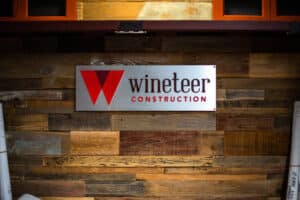 This space does not only reflect Nick's personal style but it is sentimental as well. Nick had 100-year-old barn boards from his grandma's house. Some of it is southern yellow pine salvaged lath boards. Southern yellow pine is one of Nick's favorite wood species! We often incorporate personal touches to our client's spaces through artwork or color schemes, so it was special to get to do this at our office as well.
The door in the lower-half of the space is from Fort Riley, KS during the WWII era. How did Nick come into possession of such a piece, you may ask? Well, it came from his grandma's house who helped to demo some of the houses there. We cut the top quarter of the door off and the shelf above is the top-half of that door, allowing us to use all pieces of the door in the background. The door shelf features the original hardware.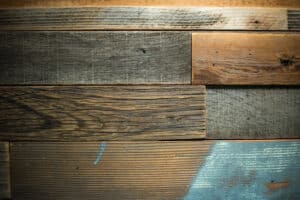 We duplicated the style of the door in the cabinet doors at the top of the piece and added in some personal touches for decoration. The bicycle picture is from Nick's personal travels to Glacier National Park. The frame around the photo is lath from old lath and plaster house with a disc break from Nick's personal bicycle. Some of the decoration also includes planer blades from crown mold, as woodworking is dear and true to Nick's heart. It's how he first got started in the remodeling industry and he keeps it up as a hobby whenever possible.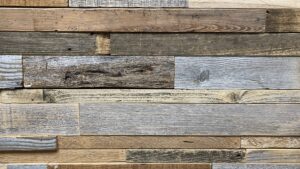 The lines in the wood wall are consistent from piece to piece in that there are smaller boards throughout followed by a larger board on top. This may seem like a small thing, but this attention-to-detail allows the space to feel cohesive. We'll bring that same attention-to-detail to all of our projects to ensure our remodels have a finished feel. This wood wall isn't just pallet wood, but actually reclaimed old growth material from Nick's grandparents' house and Fort Riley KS, which helps to create the rustic industrial style. This project is clearly full of character and your next home remodeling project can be too! Give us a call today so we can help you create your one-of-a-kind space!