Back
Meet The Team: All About Nick McIntyre
08/27/22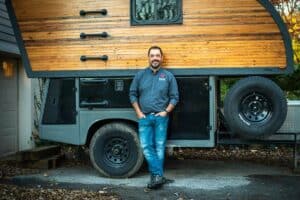 Nick has a love for the fine arts. Early on he started drawing and painting. In second grade he went through a phase where he would only draw old trucks. His art teacher once asked him to draw a Christmas tree around the holidays, so of course Nick drew a Christmas tree in the bed of an old truck. Nick's art developed into a love for visualizing nature. He loves the intrigue of an old barn or the various fall grass colors of the eastern Kansas landscapes he grew up in. If you ask Nick, the Flint Hills in Kansas are one of the most beautiful sights to see (although the Smoky Mountains in Tennessee might be a close second).
Nick has been creative since he could walk and talk. Building str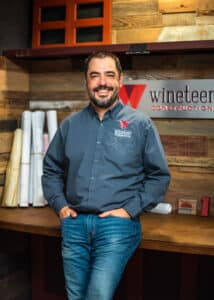 uctures in the sand box is where he spent most of his time before the age of 5. He created structures that ended up several stories high with tunnels, roofs, and paths for his toy cars. There was an abandoned lot behind his childhood home that had an endless supply of raw materials. He built forts, tree houses, bike ramps, bridges and so much more out of small trees and castaway items that were unearthed from that lot.
Building various structures became a very important part of his life early on. His mom likes to fondly tell of the time where he continued to stack tires on top of each other to create various ramps and elevated boardwalks for his bicycle. He would build these structures just as high as they could go, pushing the limits of his design. He says the thrill was testing them to see if they would hold up! He liked to push to the limits of what was possible.
Today Nick channels that childhood creative energy into looking for ways to feature reclaimed wood or find a new purpose for doors or windows in a project. This is part of what makes design at Wineteer Construction so unique and personal: Nick looks for ways to bring creative energy into your home as well, while keeping things functional and aesthetically pleasing. In his adult life he has created a wooden smoker that will hot and cold smoke, a wooden kayak, and a small travel camper that he explores nature in.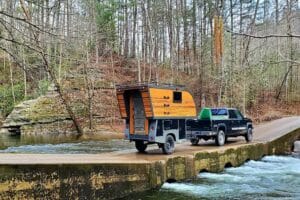 Nick likes to bring his love of art and design into the entire remodeling process. He enjoys getting to know a client personally and bringing their vision to life. Being involved in the design, sales, and production process, Nick gets to be involved in a client's project from start to finish. His favorite part of the job is creating a comprehensive design that solves the client's problems with their existing space and brings in new functional elements while delivering an eye popping aesthetic style that matches the client's personality. Nick's design strength brings the original structure of a home together with modern function and style to create a space that just feels right!
Outside of work, Nick enjoys whitewater kayaking, camping in his homemade camper (more to come in a future post!) and spending time with his wife and four daughters. He loves having a project to work on where he can be creative yet build something functional. His eye for colors and textures, understanding of form and function, and passion for creating spaces that work for clients carry through in all aspects of his work and life.