Back
Updating a Kitchen for Form and Function: Part Two
03/02/23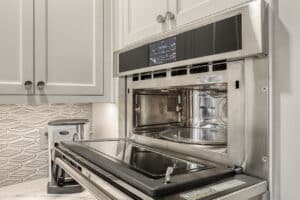 Expanding on the kitchen remodel for our couple wishing to update their space, we're sharing all about the cabinetry, sink, and special features. To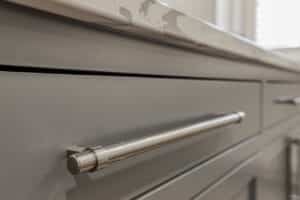 optimize the space, we centered the island, created more countertop space (always a plus with our kitchen designs) and opened up the kitchen. By moving the appliances in the kitchen it allowed room for multiple people to work, whereas before the space felt a bit cramped.
One of our favorite additions to the space was a workstation sink. There are many iterations of a workstation sink and this one is fairly simple in design with one center open space. A single basin sink is currently Wineteer's go-to solution in lieu of a divided sink. You can always add a bin to the sink for separation, but you can't take out a divider! We love having the larger sink space. This sink has a cutting board and strainer that slide along the top rail as well.
RELATED: Designers Predict the Top Kitchen Trends for 2023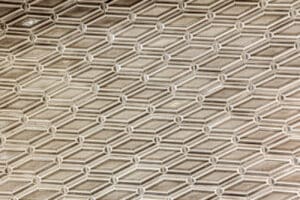 In this new kitchen remodel design we brought the upper cabinets back from the new exhaust hood to make the space even more open. The cabinets are a white painted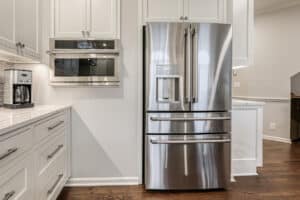 cabinet with inset doors and drawers and under-cabinet LED lighting, a sharp contrast from the original dark stained wood. The interiors of the cabinets all have specialty features, such as rollouts and dovetail drawer boxes. We help our clients think through which unique features make the most sense in their new cabinetry and where to place them. We were also able to create a larger pantry for food storage by repurposing some of the space.
We created more seating at the island to maximize space and accented the cabinet with a different color (but used the same countertops). The client selected a Cambria quartz countertop that we used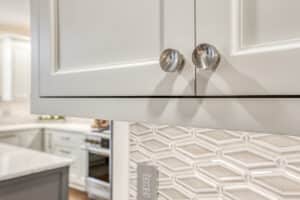 throughout the kitchen. The drawers on all cabinets have long pulls, which creates an elegant and timeless look. We also added large pendant lights over the island for a striking accent. To provide texture, depth, and dimension to the kitchen we added a heavily patterned glass backsplash tile. When we placed the recessed lighting in the ceiling we thought of where a person would be standing at the countertop. In doing so, we made a strategic decision for placement so the lights are in front of you when you are working in the kitchen. We also refinished all the hardwood floors and the brand-new paint scheme completely changed the look of the kitchen! We loved this project but we're not done yet! Come back to read about how we remodeled the en suite bathroom next. Check out these kitchen remodeling projects for inspiration!