Back
U.S. Homeowners Tackle Remodeling Challenges, with Professional Help
07/14/15
Houzz.com, an online platform for home remodeling and design information, recently published the "2015 Houzz & Home survey"—an overview of U.S. renovations in 2014. The numbers are based on an online survey of 170,000 registered users, who tackled a remodeling project in 2014 or plan to start one in 2015.
For U.S. homeowners 35 to 64 years old, the leading factor in kicking off a renovation project was finally having the financial means to put long-awaited plans into action. The income levels of the survey respondents were evenly split, but nearly 50% estimated their home value at $200,000 to under $500,000.
In 2014, Houzz found that 69 percent of renovations were kitchen and bathroom projects, with paint, lighting, bathroom plumbing fixtures, flooring and countertops topping the list of planned purchases. Speaking of planning, the majority of projects take one to five months to get from the design stage to start of construction.
A Reasonable Budget
The Houzz survey found that most homeowners are leveraging personal savings to fund renovations, with only 25 percent charging expenses to a credit card and only 10 percent taking out a loan. You might be asking: If the preferred method of financing a remodeling project is savings, then how much should I save?
"Major kitchen remodels, which at a minimum include replacing all kitchen cabinetry and appliances within the existing home footprint, run on average $29,400 for a smaller kitchen (200 square feet or less) and $42,400 for a larger kitchen (more than 200 square feet)," according to the survey. "Major bathroom remodels, which at a minimum include replacing bathroom cabinetry/vanity, toilet and countertops within the existing home footprint, run on average $10,500 for a smaller master bathroom (100 square feet or less) and $18,800 for a larger master bathroom (more than 100 square feet)."
The Right Service Provider
Finding the right service provider is at the top of the list for renovation challenges. In 2014, four in five homeowners renovated their homes with professional help, from general contractors to kitchen/bath remodelers, as well as specialty service providers (like electricians, plumbers or HVAC) and designers, including landscape architects.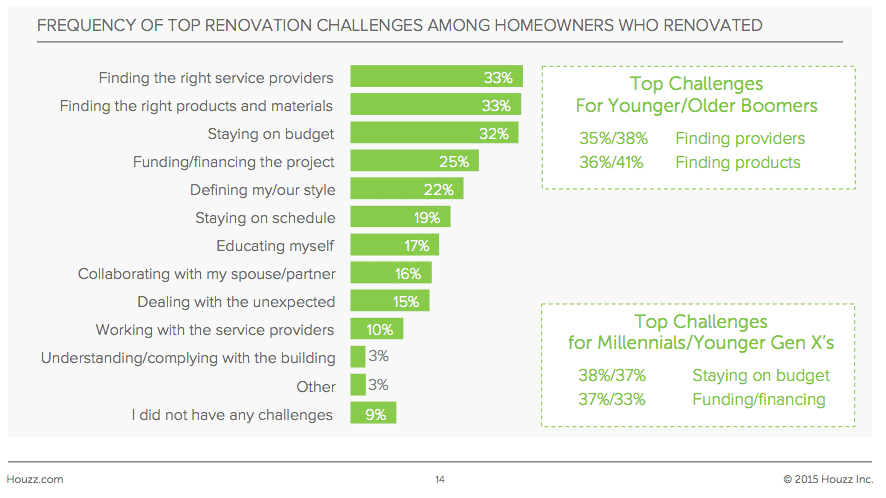 For most homeowners, picking a remodeling professional relies heavily on reviews and word-of-mouth. However, millennials are twice as likely as baby boomers to base this decision on the lowest price.
But remember, hiring the best service provider—a high-quality firm like Wineteer Construction—means other hassles like finding the right products or materials, staying on schedule and dealing with the unexpected will be much easier to navigate!