Back
Make Your Dream Kitchen a Reality
11/27/17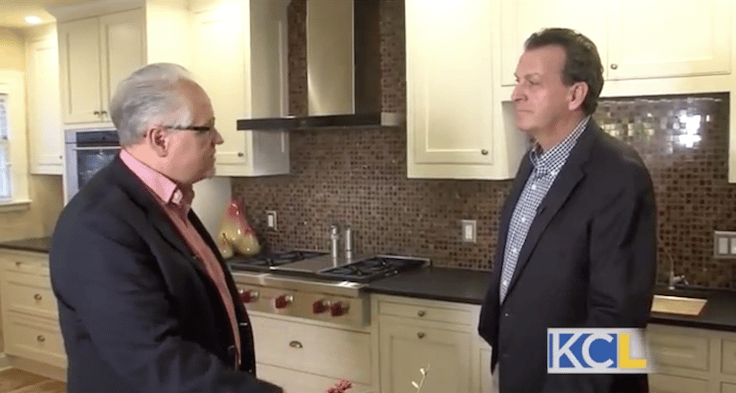 President and CEO Mike Dodd recently invited KC Live Co-Host Joel Nichols into his kitchen to discuss remodeling goals, the process of selecting appliances and cabinetry and updates to appliance design and technology. Read the key discussion points below, or watch the full segment here »
It's a well-known fact that families often end up gathering in the kitchen during the holidays. For the Dodds, their kitchen has always been a cook-style kitchen, as they are constantly entertaining guests.
Any kitchen has to complete a number of tasks on a daily basis, so the following updates were made in this particular remodel to keep kitchen functionality high:
Double ovens were relocated to a more open location.
A connection was created between the utility room and the kitchen to allow for more counter space.
A steam oven, which assists in providing moisture and flavor to foods when heating them up, was installed on top of the double ovens.
The dishwasher was moved up off the floor; this is an update we always suggest to clients when the floor plans allow for it.
Aesthetic enhancements were added through the installation of glass tile up the wall and around the ventilation hood.
Traditional white cabinets were installed to create an elegant and beautiful feel in the room while allowing more options for the decorations surrounding them.
Any of these updates can be installed in your dream kitchen as well, so long as the floor plan allows it! The key takeaway in any kitchen remodel: form follows function. We design kitchens in a way that assures it offers functionality, while still aesthetically entertaining and hosting guests.
No matter what your kitchen dreams and plans are, work with your contractor to identify the specific goals of the remodel. These goals should drive what appliances and cabinets are selected, and where they are placed in the kitchen.
Ready to make your dream kitchen a reality? Wineteer Construction is your go-to remodeler in the Kansas City area, offering clients remodels that are always "Planned Right. Priced Right. Done Right."