Back
Modern Poolside Kitchen Built for Entertaining
09/19/22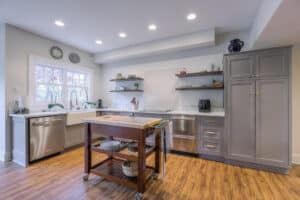 Who doesn't love a basement kitchen that can be used for poolside entertainment? We jumped at the prospect of creating a modern and aesthetically pleasing entertainment kitchen for our clients in their modernized Cape Cod-type house. At Wineteer Construction we love helping our clients to create their dream space, whether that be through a traditional bath or kitchen remodel or a fun second kitchen!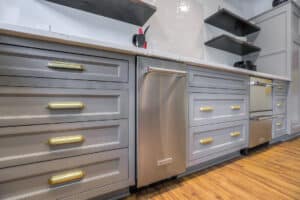 The main goals for this remodel were to create a simple and clean look where the most important and frequently used items were easily accessible. The clients did not want the basement kitchen to detract from their curated downstairs entertainment space that opened up into their pool area. They told us that the kitchen should essentially feel like an extension of the entertainment space rather than an awkward, in-the-corner space.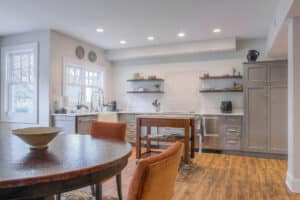 We renovated and redesigned their basement kitchen to include a silagranite farm sink from Blanco (also known as an apron-front sink). The faucet we chose to use duplicated their upstairs kitchen to tie in elements from their existing spaces in their home. The clients did not want to include upper cabinets in this build so we suggested floating shelves, which are a trendy yet timeless way to add storage to a space without installing full-fledged cabinets. These shelves are truly floating as they do not even have brackets below. This ensures that the space remains open and bright.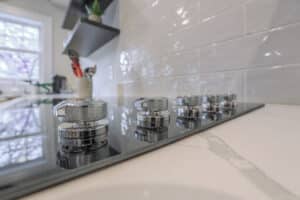 For a unique look we chose to install a backsplash highlight over the cooktop. The beauty of an entertaining space is we can install some non-traditional items. For this project we chose to install refrigerator doors (rather than a full fridge) and a specialty ice maker, both with stainless steel finishes. Our clients already had a one-of-a-kind bar cart and we purposely designed the space to be functional for this cart. By knowing the needs of our clients before we designed their space we were able to include all of their "must-haves" from the start and create a truly custom entertaining space.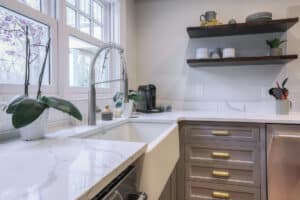 The poolside kitchen features custom cabinetry with inset drawers and drawer fronts. The quartz countertop is in the color Calcatta Laza and we included gold hardware for accents. Hardware on cabinets is a lot like women's jewelry: it needs to coordinate, it needs to accent and highlight, but it should not overpower the other design elements in the kitchen. Oftentimes our clients feel like their hardware needs to 100% match their appliances, but this is not the case. This project was one that was really fun for us to put together and we accomplished the client's goal of creating a simple, clean, and elegant entertaining poolside kitchen. Whether your project is unique or traditional, we're here to help you make your dreams a reality!