Back
Ready. Set. Score!!
01/27/16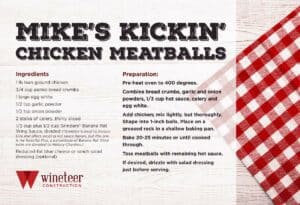 Super Bowl 50 is right around the corner! No matter which team you are cheering for, make this the best game day yet by planning out the perfect menu. Check out this delicious recipe that is sure to score points with your guests:
Click here to download this crowd-pleasing recipe.
Are You Game Day Ready?
Let's face it. Now matter how big your kitchen, this is the favorite gathering spot for most guests when you are hosting a party. Now is the perfect time to make sure your kitchen is game day ready. An up-to-date kitchen space, complete with views to the game on the big screen television, allows your guests to be comfortable, and celebrate Super Bowl Sunday with good company and conversation. In fact, The Houzz 2016 Kitchen Trends Survey shows that an open design is "in." The new breed of kitchen serves multiple purposes—blurring the lines between rooms, and incorporating features, functions and decor typically associated with other parts of the home. Nearly half of all homeowners are using this space to entertain.
Top Design Trend: Luxurious and Functional Style
Today's kitchens have evolved beyond a space for preparing meals. Whether cooking, entertaining, or reading, nearly two-thirds of homeowners are spending more than three hours a day in their kitchens. Many are adding features traditionally associated with living and dining rooms to their updated kitchens, such as dining tables, chandeliers, televisions, and desks or work spaces. Customized features that enable entertaining, such as wine refrigerators and built-in coffee/tea stations are also becoming increasingly standard.
This year, why not add some extra style to your kitchen space?