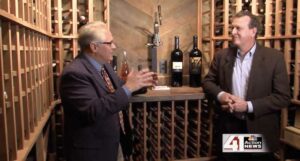 For those starting 2018 as empty nesters for the first time, there are a number of lifestyle changes that will take place that can be reflected in home remodeling as well. President and CEO Mike Dodd and KC Live Co-Host Joel Nichols recently visited a Wineteer Construction client's 102-year-old home to discuss remodeling ideas that fit the empty-nester lifestyle. Read the key points below or watch the full KC Live segment here »
Expand Your Kitchen.
Transforming the kitchen into one large great room can help to open up the space into the family room while maintaining many of the home's beautiful features. Older homes present unique challenges, and custom cabinetry is a great solution to keeping a traditional feel in the home.
Make Your Bathroom Functional to Improve Ease of Living.
The bathroom must be functional to help people improve ease of living and remain at home. Installing a barrier-free shower with decorative bars and other accessories can offer these advantages without looking institutional. Our team at Wineteer Construction works to ensure form and function fit perfectly in your home while maintaining an elegant look.
Incorporate a Wine Cellar in Your Home.
Who doesn't like a great place to store all the finer things in life? In this case, we are speaking about wine…one of the many things people love about the holidays. In the case of this remodeling project, we were able to use reclaimed lumber from the attic to create the perfect storage space for all their wine and other delectables. Stand-alone air units should also be installed in order to ensure optimal temperatures for your wine.
At Wineteer Construction, we build long-term relationships with our clients. Your styles and preferences become second nature to us. So, when you're ready to start that next remodeling project, give us a call.
Interested in any of these remodeling ideas to fit your new lifestyle as an empty nester? Contact us to schedule a free consultation.