Back
The Value of Remodeling a Space in Your Home
10/14/21
You've been thinking about it for a while, making updates to your home. However, the cost that comes with the project is keeping you from making a final decision.
Leave the stress behind and see why remodeling your home is a great investment.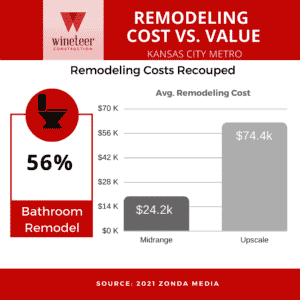 Cost Vs. Value: The Reality of Remodeling
While remodeling projects come at a cost, the value of the final product not only includes a happy homeowner, but also a renewed space that can bring up home value and even a high percentage of costs recouped.
According to the Cost Vs. Value Report from Zonda™ Media, remodeling projects for key spaces in the home provide great value. Specifically, universal design bathroom remodels add value and have a cost recouped rate of 56%.
These types of remodels are focused on accessibility, meaning that:
Spaces are made wheelchair accessible

Toilets have a comfort height fixture featuring elongated bowl and bidet-type seat

Bathtubs are replaced with curbless, tiled, walk-in shower with adjustable showerhead, foldout seat, thermostatic mixing valve, and bi-directional glass door

Floors are updated with electric radiant heat beneath

Vanities are updated to a living vanity with easy-grasp handles and adjustable mirror

Lights are updated to LED lights, infrared ceiling light, night light, and ultra-quiet vent fan with humidity sensing controls

Ceramic tiles are used on walls with two contrasting color stripes

Towel bars should be able to support 250 pounds

Storage should be reconfigured to be accessible from a seated position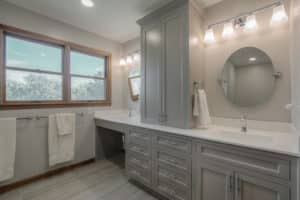 For more information, access the report here.
To get started on your next remodeling project and bring value to your home, contact us.