Kansas City's Leading Bathroom Remodeling: Project Spotlight
Have you looked at an area of your home and thought "you know, this isn't bad, but it's not exactly what I want to see here?" That's exactly what this Blue Springs couple thought when looking through a couple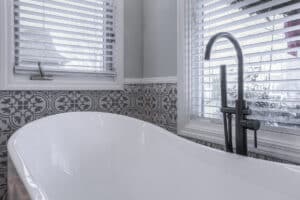 of areas throughout their home. Like most homeowners, the couple wanted to invest in a home remodel, but didn't know where to begin. As a top notch home remodeling company, Wineteer often has clients who feel that their home is outdated but don't necessarily know what specific updates to make. Our in-house design team helped this couple by asking questions to understand what did and did not work for their home. By knowing what works and what doesn't, we can help our clients design their dream home. That's one of the differences you can expect from working with a design-build company like Wineteer Construction – we do the heavy lifting so you don't have to! Don't exactly have a vision yet? That's okay! We have 35+ years of experience helping homeowners bring their bathroom remodeling dreams to a reality.
RELATED: New Year, New Bathroom Trends for your Home
Bathroom Remodel Design
This homeowner decided to incorporate some of the current trends while maintaining a timeliness look. We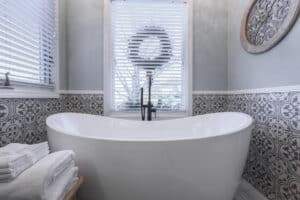 removed the built-in tub, which can make a bathroom feel outdated, and replaced it with a freestanding tub. The freestanding tub makes the bathroom look roomier. We anticipate this bathtub trend will be here to stay for a while! One aspect of the bathroom that the couple wanted to change was the vanity drawers. The function of the space was the primary issue. For once, the layout actually worked for the couple. Oftentimes, we will completely redesign the layout for our clients to create a more functional space, but for this project we kept much of the layout the same.
As with Wineteer, we handle projects of all sizes – from whole home remodeling to bathroom or kitchen remodels. Once you partner with us, you become family. That's one of the main differences between us and other home remodeling companies – we are family owned and care about each and every project. Another element of this remodel that we addressed was the simple age of the pieces, so everything we brought had a modern look. Come back for part two where we'll share about the vanity, tub, and zero-entry shower.
Have you considered a bathroom remodel? Reach out today to discuss your ideas, timeline, and budget.