Back
Timeless Fallbrook Multi-Project Updates: Fireplaces
04/20/23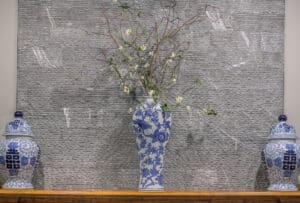 Our final project for this couple was to remodel three different fireplaces. We wanted to work with the wood, which we determined was from the 80's and 90's eras, but we wanted to give the tile work a much-needed update.
For the client's entertainment center we removed the upper cabinets and replaced them with 12 x 24 large format tile in slate gray. We also replaced the countertops with a gray-black granite slab, titled Saratoga Silver, choosing colors that would help to modernize the look of it overall. The countertop is unique as we selected one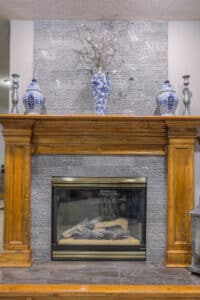 that has white streaks throughout the granite. We also chose to add a secondary TV near the kitchen to provide entertainment in multiple points in the home.
For the basement fireplace work, we again focused on the tile-work and left the wood as-is. The new tile has a chipped, sawtooth look to it with white veining throughout. This is definitely a unique and different tile to include! While all of the design selections are influenced by our owner and designer, Nick McIntyre, this tile was a special recommendation.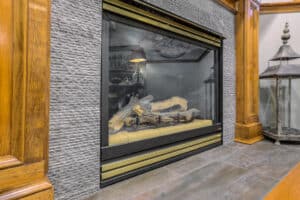 While these fireplace updates were simple, they certainly made the fireplace look more modern and elegant, while keeping the integrity of the original woodwork. This was a fun set of updates for us to include in the work for this customer's portfolio!