As one of the most frequented rooms in the home, your bathroom space should be as welcoming as the rest of your home. Some even consider it an escape after a long day, as they draw a bath to relax and decompress. There's no better way to add elegance and create an oasis than with a stylish and comfortable bathtub.
When it comes to a bathroom remodel, the options are truly endless. We have a list of the 5 Best Freestanding Bathtub Ideas for a Stylish Upgrade. You'll be surprised at what's available and sure to find the perfect fit.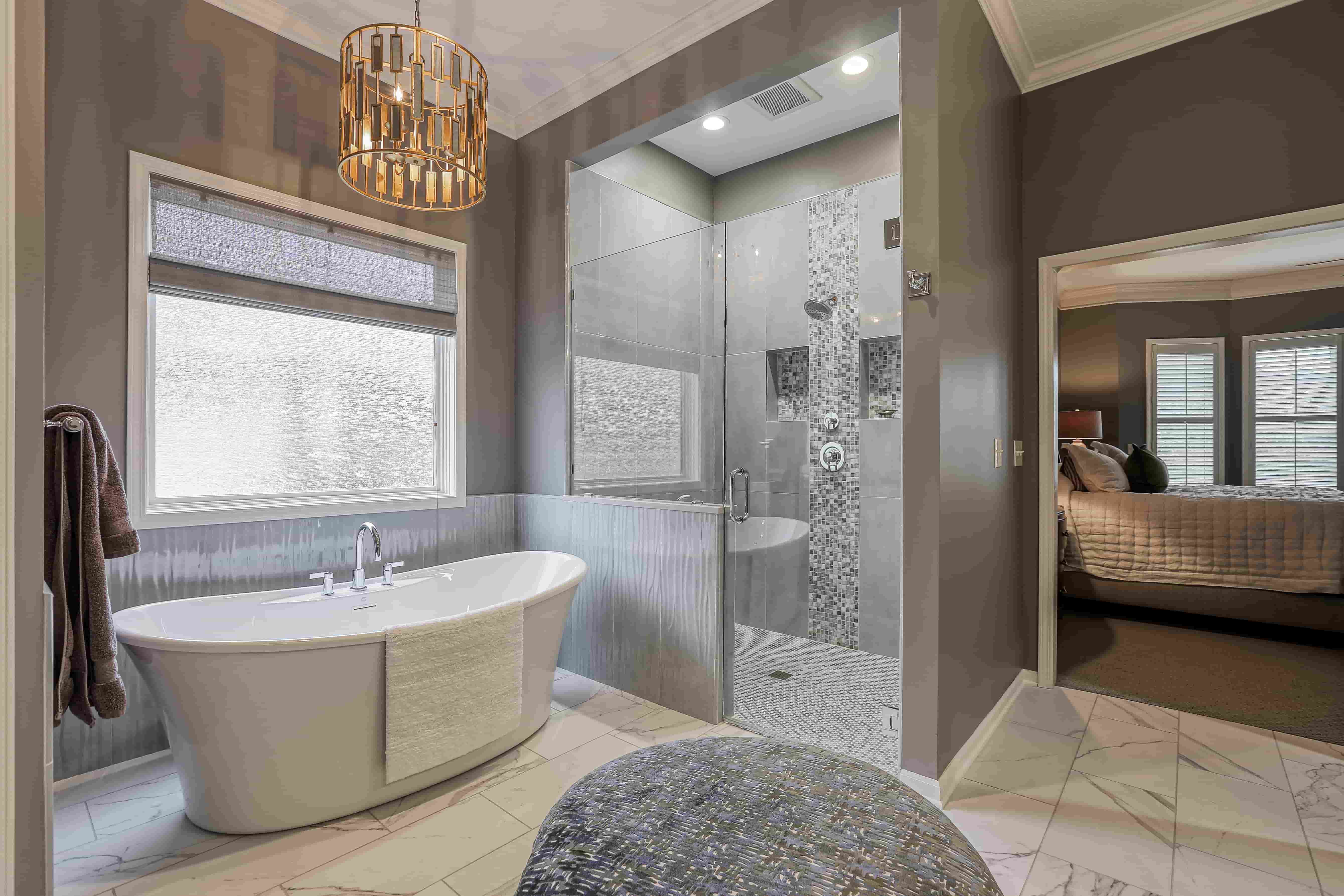 Unlike a traditional bathtub, a freestanding bathtub has all four sides exposed. Many bathroom remodeling contractors have seen a drastic increase in freestanding bathtubs used in projects over the past several years. Some of the immediate benefits of the logistics is that the tub is placed directly on the bathroom floor, removing the need to position against two walls for the installation. In the bathroom, these freestanding tubs serve as a statement piece, and add to the tranquility.
When it comes to freestanding tubs, homeowners can choose from many styles and designs. Whether you're looking for a clawfoot or square-shaped soaking tub, the tubs are simple to install. Most importantly, with the right bathroom remodeling contractor by your side, you let your imagination run wild when it comes to the design of your bathroom. If you're in the Kansas City area, consider Wineteer Construction for our bathroom remodeling needs. We have a gallery of pictures from bathroom remodels!
Interesting Ideas for Freestanding Bathtubs
Our picks for the best freestanding bathtub ideas will make your decision easier among the many designs available. Let's find out what's out there!
Slipper Styled For Elevated Comfort
A slipper-styled freestanding bathtub, dating to the 19th century, is distinguished by an elevated single end or two ends. The design provides the bather with a natural and comfortable bathing position. In a single-slipper bathtub style, one end has a raised edge. One end is for relaxation, and the other end is for plumbing. In contrast to a single slipper, a double slipper is raised on both sides. Thus, you can choose either side to rest on. Another way to maximize the space is to upgrade to a bath accommodating two bathers. The tub has a center drain and faucet provision at the low point.
Full-body Japanese Soaking Tub
Japanese soaking tubs feature a unique design of soaking the body up to the shoulders. Hence, you can allow most of your body to soak, which is therapeutic and relaxing. Because Japanese soaking tubs have the shortest lengths and highest height, the tubs are also the deepest in construction.
In Japan, they are also called Ofuros. In most cases, they are square or rectangular rather than sloped. Usually, they come with a wooden exterior.
Introduce Classic with Roll Bathtubs
For a bit of old-school elegance in your bathroom, you may want to consider traditional roll-tub baths. Their charm, attention to detail, and aesthetic appeal make them popular year after year; trend after trend. It is common to see ball and claw feet, pedestal, or skirted feet on such freestanding bathtubs. The feet help raise the entire tub off the floor.
This design dates back to the 1800s-1900s and contributes to a romantic and vintage atmosphere. Nowadays, acrylics are commonly used instead of brittle and heavier enamels.
Space-saving Wall-mounted Freestanding Tub
Installing your freestanding bathtub on the wall could be an option since most bathroom floor plans do not exceed two king-sized mattresses. In order to incorporate the style and luxury of a freestanding tub, choose those that you can easily mount on walls or corners. While you may not find them in classic shapes as claw-footed, you can definitely get them in a variety of shapes- rectangle to square to Japanese deep soaking tubs and more.
Tub With Backrest For Comfort
Similar to a spa feeling, some bathtubs have a backrest option. With a tub that includes a backrest, you can have heightened comfort. The tub provides the benefit of resting your head while you soak, enjoying a glass of wine or book. Depending on the model, the tub with a backrest can have single backrests or double backrests on both sides. There is also an elevated version of the backrest.
Things to Know Before Buying
Before jumping to a final decision on your bathroom remodel, you may want to consider a few terms. Based on your needs and the type of bathroom in your home, this will help you make a more informed decision. Again, be sure you have a partner that you trust for your remodeling design and professional craftsmanship.
Do you Have Available Space for a Freestanding Bathtub?
Working with your remodeling contractor, discuss your available bathroom space to accommodate a freestanding bathtub. Make sure your bathroom doesn't look too confined. Fortunately, freestanding tubs don't have to be as big as they used to be; they are now available in various sizes.
Select a Style that Suits Your Taste.
From classic styles to more exotic varieties, such as the Japanese soaking tub-we have discussed several types. You need to pick one that works the best for your bathroom. Also, consider the environment you want to introduce.
Choose from the Variety of Freestanding Tubs.
Depending on your preference, you can choose from a one- or two-piece freestanding tub. As the name suggests, one-piece models are made in one piece, while two-piece models are made by inserting the skirt into the tub.One of the advantages of the two-piece model is that it is more luxurious in appearance and relatively easier to install.
Decide A Construction Material Based on Your Interest.
Material selection is crucial because it plays a key role in determining the style and durability of the bathroom freestanding tub. With acrylic, you get a surface that is scratch-resistant, easy to maintain and repair. It is also lightweight and gives off a modern vibe.
Alternatively, you can choose AcrylX TM, an acrylic finish brighter than fiberglass. As well as being UV-resistant, the product gives off a factory look after a long time.
When selecting resin and pure acrylic, you will get a high-quality product. Expect to get either a matte or glossy finish. One of the best things about this material is that it appears like stone but is lightweight and durable.
Choosing fiberglass-reinforced resin will result in a durable and lightweight tub that is easy to maintain.
Achieve a chic look with copper and stainless steel, which is also easy to maintain. Using these materials, you can either go for a modern look or a traditional one. Moreover, it retains the same temperature for longer periods of time thanks to its heat conduction properties.
Cast iron could be an excellent choice for an industrial or vintage look. Despite its weight, the material is robust and scratch-resistant. Once damaged, however, it may be difficult to repair.
It may sound a bit heavy, but stone can create a bold, modern, and natural look. Before choosing the stone, consider the load capacity that your floor can handle.
Decide the Tub Shape.
The market offers a wide variety of shapes, ranging from ovals to squares to rectangular. Once again, consider the overall look or vibe you want to create as well as the size of the bathroom to help you select the right shape.
RELATED: How a Spa Bathroom at Home Can Change Your Lift and Your Property Value
Adding a bathroom freestanding tub to your bathroom instantly adds a sense of luxury and comfort. With all the options available, we decided to look at some of the most interesting freestanding bath ideas that are on trend at the moment.
Besides, remember to consider your bathroom's size as well as the design you have in your mind. Having all this information at hand will help you make a confident decision.
If you're in the Overland Park, Olathe, Leawood, Lee's Summit, or Brookside area, consider Wineteer for all of your bathroom freestanding tub remodeling needs. Reach out today to get started!